Caste discrimination continues to flourish in India, despite the technological achievements of the country. While historically marginalised castes in towns find themselves in an unsafe and demeaning situation, the condition in villages is worse, as people belonging to these castes endure discrimination every day, says Manju Dhapola, reporting from Bageshwar, Uttarakhand
Despite the existence of laws and regulations aimed at addressing discriminatory attitudes, various elements within society continue to perpetuate discriminatory beliefs. The recent incident in Madhya Pradesh's Sidhi District, where a tribal worker was subjected to the degrading act of being urinated upon by an upper caste man, highlights the persisting manifestation of discriminatory beliefs within society.
While historically marginalised castes in towns find themselves in an unsafe and demeaning situation, the condition in villages is worse, as people belonging to these castes endure discrimination every day. Sanjana (name changed), 17, a resident of Lamchula in Bageshwar District of Uttarakhand, believed that school education could bring about a change in the lives of people like her, who belong to lower castes, but the frequent caste-based discrimination she is subjected to has made her question this confidence.
"We believe that schools provide us with opportunities for personal growth and community development, but even within these institutions, we encounter discrimination," Sanjana laments. "Due to my caste, I am forbidden to enter the school kitchen. We are not allowed to touch the bucket of water designated for kitchen use. If such mistreatment is inflicted upon students within the school environment, can we truly hope for a bright future?" she questions.
Lamchula Village, located around 22 km from the district headquarters, Bageshwar, has a distressingly low percentage of education among the Scheduled Caste (SC) Community – just 29.74 per cent. Limited access to technology exacerbates the situation, reinforcing traditional and conservative beliefs that hold sway over the village. These traditional norms are enforced more strictly than the legal regulations. As a result, the villagers lack awareness of their rights and face numerous challenges. Adolescent girls and women bear the brunt of caste discrimination. The regressive mindset and restrictions impede their education and hinder their overall progress. This discrimination is not confined to village affairs, but extends to schools as well – teachers and staff discriminate against Dalit children.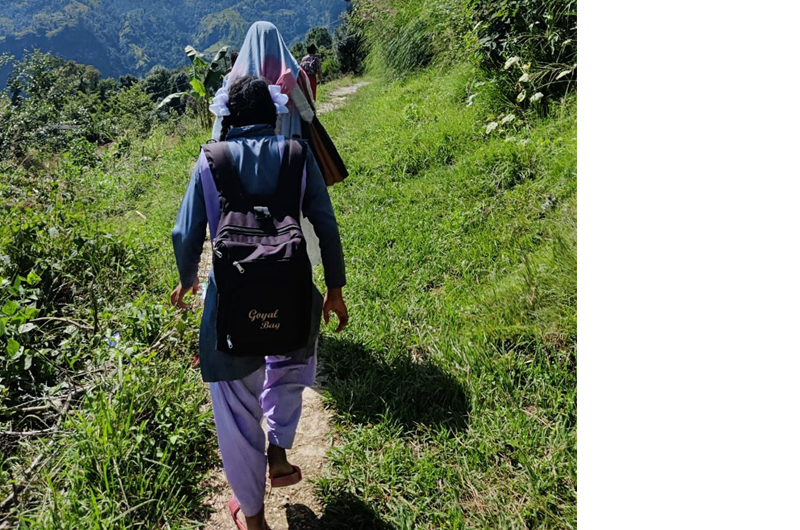 Matters like menstruation, which are already seen as taboo, become even more challenging for SC girls. Sunita (name changed), 16, from the village, while sharing her experience, says, "Regardless of my condition when I am having my period, nobody is willing to bring me water, simply because of my caste identity. If a girl unexpectedly gets her period while on her way to school and needs to use someone's restroom, she faces unnecessary scrutiny about her caste. If she belongs to the Dalit Community, she is denied permission to change her sanitary pads, regardless of how urgently she may need to do so. She is not even allowed to use the restroom," Sunita shares.
For Rekha Devi, it took 50 years to realise how the deeply ingrained caste discrimination had influenced the rules she followed and the life she lived. She recalls a time when she and her friends were served food separately in school and says, "As children, we didn't comprehend the significance of these practices." But now, with a greater understanding, Rekha laments the fact that various agents in society have consistently worked to maintain the caste hierarchy. What's even more disheartening is that this issue continues to be relevant even today.
Talking about discrimination at the community level, 60-year-old Bachuli Devi says those who consider themselves superior based on their caste, prevent people from the SC Community from entering their homes. "This also happens in schools, where students should be taught the values of equality and unity," she notes. Padam Ram, the gram pradhan (chief) of the village and a SC himself, agrees that caste discrimination is very much prevalent in Lamchula. "Even at ceremonies like weddings, we witness casteism. People from higher castes are made to sit in one row, while those from lower castes are made to sit separately," he reveals.
Instances of caste discrimination have been reported from various parts of India. For example, in Ratlam, Madhya Pradesh, a Dalit groom wore a helmet to protect himself from upper caste villagers. Similarly, in Kurukshetra, Haryana, a Dalit groom was prevented from riding a horse during his marriage procession. Despite the abolition of caste-based discrimination under Article 17, untouchability and discrimination resulting in crimes continue to make headlines.
Regardless of the advancements the country may have achieved in terms of technology, things have remained distressingly backward in respect to social values. As Neelam Grundy, a development practitioner pointed out, "People have undoubtedly become educated and skilled but not aware."
(Courtesy: Charkha Features. The writer is a BA first-year student from Bageshwar, Uttarakhand.)