The Schizophrenia Research Foundation (SCARF) and the Press Institute of India (PII) Media for Mental Health Awards were presented on May 24, at SCARF. The surprise first-prize winner in the English Language category was Reshma Valliappan, who had "no clue about journalism" but who entered the field of mental health advocacy after her own battle with schizophrenia. She made a sterling speech at the end of the presentation. Reshma was the protagonist in a documentary called A Drop of Sunshine, which was based on her recovery. The film won several awards nationally.
The other winners included Mini Thomas, Bangalore correspondent of The Week (Manorama Group), and Arun M. and Sam Paul, senior reporters of The New Indian Express, Kozhikode. Thomas won the prize for her reportage on the after-effects of rape and how victims cope with mental trauma and social stigma. In the Local Language category, Geetha Gengaih, senior assistant editor, Puthiya Thalaimurai Weekly, and Reji Joseph, Kottayam bureau chief of Rashtra Deepika shared the top prize.
"I have never raped, tortured, or abused anyone, and yet because I am a 'survivor of psychiatry', neither the government nor society gives me the rights I deserve," said Valliappan, co-founder of Mind Arcs. About 12 years ago, Reshma was diagnosed with schizophrenia. After successfully undergoing treatment, she started the Red Door Project in order to raise awareness on mental health issues (the project can be reached at www.reddoor.in or on Facebook through The Red Door Group and on tumblr at thereddoorproject.tumblr.com). The project, which has over 800 members from around the world, encourages people with mental illness and others to share their experiences. "I wrote this piece as a kind of catharsis when I was in therapy, and I sent it to a friend, who then forwarded it to the Women's Feature Service and they immediately accepted it," she said. "Indian law states that people with mental illness cannot travel in an aeroplane unless they are sedated, and they need a doctor and therapist to accompany them on public transport. They can't vote, have no say in their treatment and don't have the same right to education as others. Many of these rules are unconstitutional, but nobody is willing to change these archaic rules," she pointed out.
Presenting the awards, Rajiv Menon said it was time the cinema industry took a more realistic view of mental health instead of sticking to the hackneyed style. SCARF director Thara Srinivasan said the idea of constituting the awards was to encourage people to write about mental health in the media. Lauding Valliappan's achievement, she said it should set an example for others. She added that misconceptions (regarding mental health) had percolated to all levels of the social strata and had become widely accepted beliefs, and, therefore, it was important to recognise well-researched stories on mental health.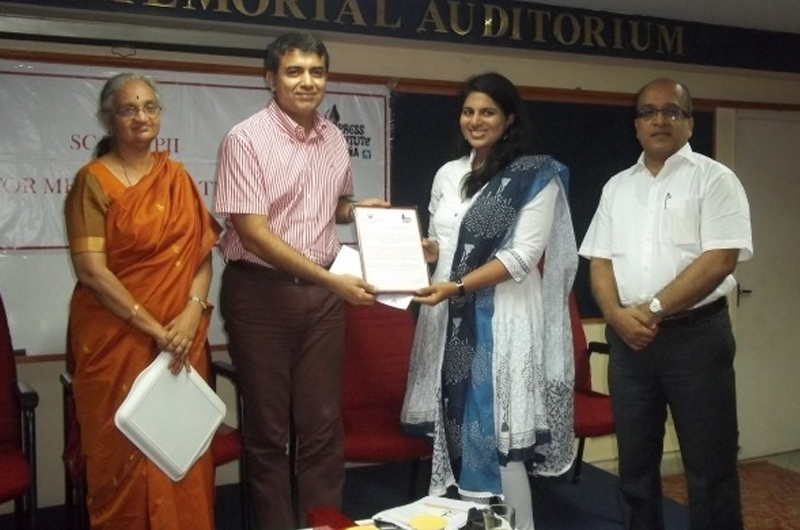 Sashi Nair, director, Press Institute of India, stressed the need for sensitivity in reporting, especially in areas such as issues relating to children and women, the disabled and the mentally challenged. He added that without a fair knowledge about the subject and without the elements of accuracy, fairness and balance, it would be difficult to bring sensitivity to the fore. The jury for the SCARF-PII Awards 2014 included Dr Jaya Shreedhar and writer-editor Susan Philip.