Last year, Spanish heatset printer Jomagar Roto Offset bought an additional Komori System 38D press. The press will enable them to increase their in-house production capacity that was being outsourced before. As the Komori press was already equipped with QI Press Controls' (QIPC) solutions, QIPC has performed an upgrade project on the existing platform including the renewal of the IDS to IDS-3D colour control.
Jomagar Roto Offset is a family owned printing company situated just South of Madrid, in Móstoles. The company began its activities in the printing industry back in 1960. Over the years, they have been able to build a name in both the national and international offset market. With a print facility that covers more than 10,000 square metres and that houses the most modern printing technology in offset plano and rotary offset, Jomagar Roto Offset can offer its customers a high quality end product with very short lead times. They produce up to 5 million sheets daily.
Jomagar already had one Komori press in operation, before acquiring the second Komori press. The newly bought press came with mRC for colour and cut-off register control and IDS to regulate colour. The existing IDS has been replaced with its successor IDS-3D. As the mRC was still in good working condition, it was decided to only upgrade these existing camera's to the new platform to make one complete system for both register and density control.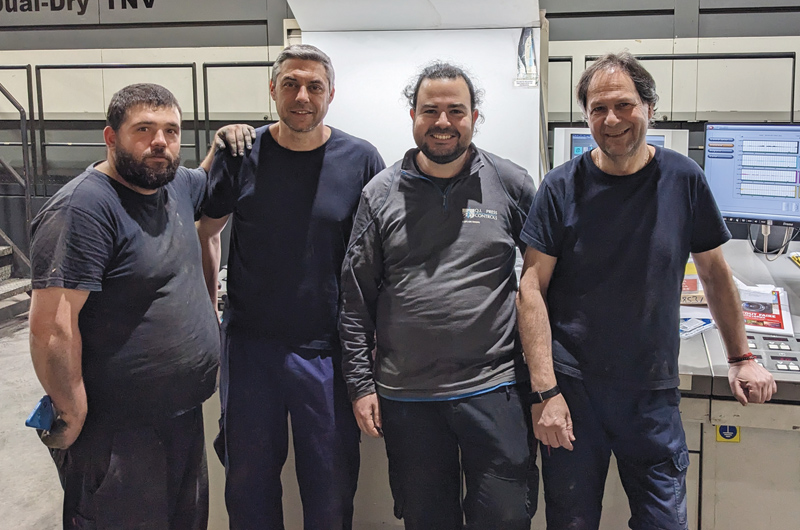 Says Javier Matías, second generation owner of Jomagar Roto Offset: "We want to establish good, long-term relationships with our suppliers. Quality and local service are very important to us. We are looking for a partner that can provide constant support and that can offer benefits in terms of high quality performance. This applies to QIPC and their local agent for Spain, Mecaprint."
Harold Drinhuyzen, area sales manager of QIPC says: "This has been a great retrofit project. Not only because it shows our solutions offer real added value and with a long life cycle. It also shows that having a good and reliable network of representatives in sales and service is real important. Because of this we are able to offer local support to our customers."
Explains Raul Barredo Sabando, sales manager, Mecaprint, and agent for QIPC in the Spanish market: "The Spanish printing industry is constantly changing. Many large heatset printing groups have ceased operations in Spain. The result is that there is currently only one major international heatset printing group in Spain. The rest of the heatset printers are medium-sized family businesses. Further, a few large newspaper printers and publishers are stepping into this market. They have started a new business model and are installing heatset presses in their current newspaper printing facilities. In this changing environment, most printers are competing in the same pool of (international) production orders. What most recognise is that it is important to maintain a competitive advantage. Therefore, it is necessary to increase all possible automatic printing processes. Making for more efficient productions that use far less paper, ink, electricity and gas".