The Durst Group has unveiled full details of a new innovative technology that utilises computer vision and artificial intelligence to take high quality label production to another level. On its stand C45 in Hall 7 at Labelexpo in Brussels, Belgium, the manufacturer of digital printing and production technologies was demonstrating the Durst Hawk Eye system that is designed to assist operators and automate the print quality. In addition, it significantly reduces set-up time and waste, resulting in enhanced efficiency and a more competitive total cost of ownership (TCO) for the Tau RSC platform printers.
Durst Hawk Eye includes a scanner system, workstation and touch screen monitor. It corrects print mistakes, such as missing nozzles, inline and in real time. In the rare event of a printhead nozzle malfunctioning, in-built artificial intelligence (AI) systems automatically detect and localize any problems without any speed reduction. Neighboring nozzles then compensate with larger drops to ensure that outstanding print quality is maintained. Operators do not need to complete any set-up and there is no need to print a special test pattern.
Other announcements by Durst at Labelexpo include important ink developments. It is expanding the Tau RSC ink portfolio with the new Tau RSC LED inks. The new ink set, available in CMYK, with optional orange, violet, green and white, is increasing the attractiveness of the Tau RSC press portfolio. By significantly reducing the energy consumption during the operation and by eliminating frequent UV bulb and reflector changes, the overall TCO of the Tau RSC presses becomes even more attractive. The new Tau RSC LED ink combines the excellent print quality and performance of the existing Tau RSC UV ink with Durst Group's roadmap towards a more sustainable printing industry. It provides reduced energy consumption and a reduction in consumable cost and maintenance time. This results in economic benefits for customers and a reduced ecological footprint. The vivid inks create a huge color space allowing to precisely reproduce important brand colors.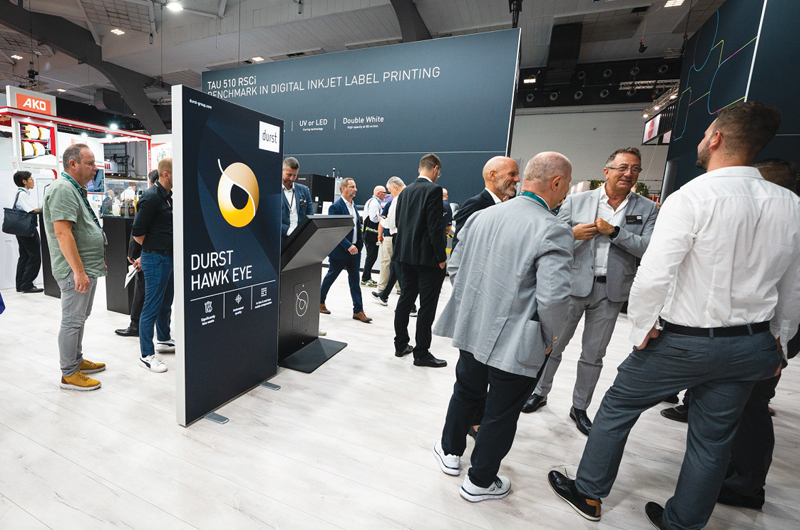 Durst has also unveiled the new Tau RSC UV Ink 3 high speed UV inks, formulated without the need for TPO photoinitiator. Durst's software label ecosystem was to feature prominently on the Durst stand. Tau printers are equipped with Durst Workflow Label, prepress and production software, and Durst Analytics, the analytics and monitoring tool, to make the printer a production unit from day one. All Durst software solutions are modular and can be easily managed through a web-based user interface. A browser based VDP editor for creating and managing variable data is available in the workflow.
The show also provided the platform for Durst Group to show live running of the Tau 510 RSCi single pass press, which is equipped with new automation features. The press on its stand is equipped with the powerful double white feature, allowing excellent opacity white ink printing at 80m/min.