An innovative initiative has the double advantage of improving the livelihood earned by small farmers by keeping goats, and of giving women a new dignity and sense of worth. Bharat Dogra has the story
Bharti Aharwar, a Dalit woman of Nadia Village in Jatara Block of Tikamgarh District in Madhya Pradesh, was finding it difficult to cope with increasing economic difficulties. Her husband had even gone to Delhi in search of better job opportunities, but in vain. So, when she learnt that Srijan, a social organisation, planned to train select rural women to give goats medical treatment, Bharti decided to give it a try. Soon, a Lucknow-based organisation called Goats Trust was teaching her to treat diseases common in goats, as well as see to their vaccination and nutrition.
After the training, Bharti, dressed in her smart new uniform, was ready to set out with her bag of medicines to visit various households where goats needed treatment. Though she was excited and happy about this opportunity, she had to overcome opposition from some members of her family, who did not like her having to go from house to house for a small fee (often no more than Rs 10). She had to put up with taunts from some neighbours, too. However, Bharti did not let such minor irritants stand in her way. And when she proved quite successful in treating the goats, the nay-sayers were silenced, and the villagers acquired a new respect for the pashusakhi (friend of animals), as she and her colleagues are called. Her stock rose further when Bharti held vaccination and deworming camps for goats.
Villagers soon discovered how useful it is to have a 'para goat vet' amongst them, who could be consulted whenever needed and, that too, for a nominal cost. They knew from experience that certain diseases could spread very fast among goats and Bharti's training made it much easier for them to take preventive steps. Bharti also effected tie-ups with farmer / producer groups to arrange for timely supply of not just medicines but also of nutritious feed prepared by women members of the groups. She gets a modest commission for the sales she arranges. That she is able to take better care of the goats belonging to her own family is of course a bonus. Bharti's efforts now earn her around Rs 60,000 a year, which helps her to arrange better education for her children.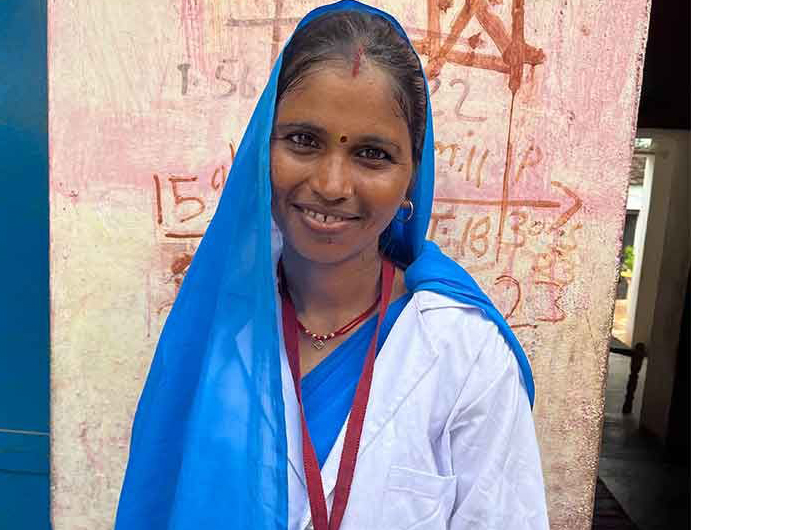 Maya Ghosh was one of the first pashusakhis in the district. After her training, one of her first tasks was to conduct a survey of goat rearing in her village, Bijrawan. It revealed that almost 90 per cent of the families rear between 5 and 10 goats, an indication of the important role played by the animals in the lives of the mostly small and marginal farmers. Maya is grateful to Srijan for training her in the work. She saved up her earnings and was able to gift a motorcycle to her husband. Her next target is to buy a Scooty for herself so that she can access the households in a nearby village who need her services but are difficult to reach at present.
Hira Devi is a pashusakhi in Kaanti Village. She says initially some villagers expressed doubts about her skills. So, she purchased a very ill goat and treated it till it was back in good health. There has been no looking back since then. Varsha Vishwakarma, a pashusakhi of Bachhaura Village, says some of her neighbours made fun of her when she started going on her rounds soon after training, but she ignored them and continued with her tasks and responsibilities.
Srijan's efforts started with just 10 pashusakhis in Tikamgarh District, but within a relatively short time their number has increased to 76. In addition, some neighbouring areas as well as some regions in other states have taken up similar initiatives. In fact, some government officials who had expressed doubts regarding the project are now very appreciative of it. Success is two-fold: Firstly, as disease has been a significant problem in goat-rearing, the model has helped improve animal health and, consequently, livelihoods based on goats. Secondly, the regard and respect for the skills of women have gone up with their success as pashusakhis, and the initiative is opening up fresh opportunities for rural women.
Rakesh Kumar Singh, coordinator of Srijan's activities in Tikamgarh, says the learning and skill development of the 'para vets' have been much beyond expectation. Also, the field is now open for enhancing goat-based livelihoods, particularly for scheduled castes and tribes, by making better use of existing government schemes.
(The writer is a senior freelance journalist and author who has been associated with several social movements and initiatives. He lives in New Delhi.)