Small farmers in drought-prone Nuapada District rely on MGNREGA to supplement the meagre income from their lands. But does their hard work pay off? Here is the story of a typical farmer
Nirakar Majhi works almost every day in his land in Rohenpadar Village to produce food. "It is the main source of livelihood for my family of thirteen," he says. "There are four children, and the rest are working members; we all engage in different kinds of work in our land," he adds. By different kinds of work, he means production-related work and work to conserve soil and water. The latter begins towards the middle of January after the second crop is harvested.
Rohenpadar is a small village in Chanabeda GP of Khariar Block of Odisha's Nuapada District. Nirakar is about 60 years old. His wife Guramati is 20 years younger. Nirakar was in his forties when he married Guramati after the death of his first wife. They live in the village with five sons, two daughters-in-law, and four grandchildren.
"Everyone in my family works hard, they never sit idle. When there is no cultivation-related work, we do earthwork to develop our land. Other than food, our requirements are many. We spend between Rs 40,000 and Rs 50,000 as barni (rice, goats, brass utensils, and gold ornaments given as gifts during marriages)," he says. Nirakar's elder son Dulhav works in a nearby stone quarry after the harvest is done. He earns Rs 400-Rs 500 a day depending upon how much stone he can cut. Another son Dingar goes to Mumbai for four months in a year to work at construction sites. "I earned Rs 40,000 last year," he says.
Nirakar was digging a farm pond under the MGNREGA (Mahatma Gandhi National Rural Employment Guarantee Act) programme with his younger son when this reporter met him. He never hires labourers for land development and water conservation work. "Our family does the work, helped by a pair of bullocks and some hand-made tools," he shares. "I use the nangal (plough) to loosen the earth and the kapar (wooden plank pulled by bullocks) to shift the soil to the embankment. As long as my bullocks are fit, my work will not stop" he adds. Nirakar hopes to complete the work in 90 days and earn about Rs 2.5 lakh as wages under MGNREGA.
"Having seven acres of land is not enough to manage a big family. You cannot save anything to meet exigencies like health issues and marriage ceremonies, or to add a new room to the house to accommodate newly married sons. In such a situation, you have to find work outside or take a loan. For the latter, a farmer like me can only mortgage land," he explains. He speaks from experience. He mortgaged 2.5 acres to take a Rs 70,000 loan two years ago to add two rooms with tile roofing to his house.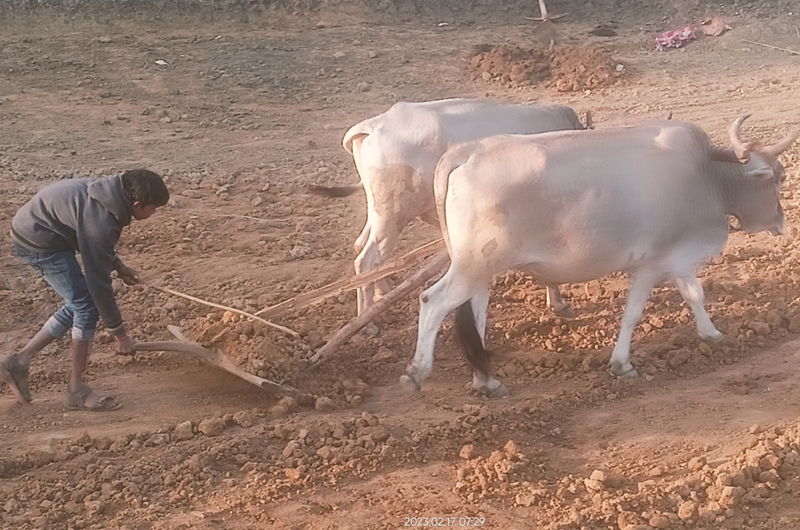 Digging the farm pond under the job scheme is a boon. Nirakar hopes to release the mortgaged land this year with the wages he will be paid. "I was getting 70 bags of paddy (3.5 metric tons) every year from that land, which now goes as interest to the lender – a reduction of about Rs 70,000 every year," he rues. As a result, the family spends less during festivals, and also increases the time they spend on wage-earning work.
For Nirakar, fulfilling the basic food needs of the family is not a problem. He cultivates a variety of crops besides paddy – arhar, mung, biri, kulthi, masur, two types of chana, dhania, and many vegetables as second crops after harvesting paddy. The surplus after family consumption fetches about Rs 15,000, he says. "For cultivation of these second crops there is no need to employ outsiders, but for paddy cultivation, you have to hire," says Guramati. "For cultivating four acres, we spent about Rs 20,000 towards labour, and Rs 18,000 for seeds and fertilisers last year." This is apart from the work the family puts in.
Nirakar's land development activities start every year after the harvesting of second crops, usually in the second week of January, and continues till the middle of June. "I started working on the land when I was 16 years old after the death of my father and don't remember taking rest for a single day, except in case of illness," he says. And he is proud of his hardworking sons and daughters-in-law. The farm pond work under MGNREGA will generate at least 120 days of employment for each member of the family. There are three job cards in Nirakar's family – one in his name and two in those of his married sons. The three job cards entitle them to get 900 days of employment per year (300 days per family, as Nuapada is a drought-prone district).
"This shows that MGNREGA has the potential to transform the rural economy if implemented efficiently. But delay in payment of wages sometimes makes it difficult for the workers to continue to work under the scheme," reveals the officer in charge of the watershed mission at Khariar. Nirakar, for example, has completed one-and-a-half months of work, but hasn't got his wages, as the Centre is yet to release funds to the state. The dues stood at Rs 11 crore for Nuapada District at the beginning of the third week of February. Despite this, more than 18,000 people were working in the district every day.
Ajit Panda, Nuapada District, Odisha