Decentralised renewable energy solutions are supporting several traditional rural trades and livelihoods in India. Beneficiaries of some of these solutions say that it has helped them reduce their trade-related drudgeries and increase their income. Experts claim that large-scale adoption of decentralised renewable technology can help reduce rural-urban migration and create more jobs and livelihood options in rural India. Manish Kumar reports
It was mid-October and 44-year-old potter Raghuram Kulal was busy on the wheel making a mud pot. Like any traditional potter, his fast-moving fingers were giving new shape to wet soil. But there was one thing that differentiated the wheel running in front of him from traditional one – this was running on solar energy. A resident of Aloor Village in the coastal district of Kundapur in Karnataka, Kulal has installed a three-kilowatt solar panel that has given his work a fresh impetus.
The village, located close to the Kolluru River on its right, was earlier known in the region for pottery. Over time, most households gave up the profession for better opportunities. But Kulal remained committed to this traditional profession. He does not regret his decision. The solar panels that now power the wheel, help increase the pace of making the pots. He has also employed four people. "Earlier, I made 20 pots per day on a manual wheel and was earning around Rs 600 per day. Since 2016, I have started using solar energy to run my pottery wheel and mud blender automatically. Now, I can make 50-60 pots per day on the solar-powered pottery wheel and earn around Rs. 1,200 per day," Kulal told Mongabay-India, sitting amidst ready pots and decorative items that he created, with his freshly made products drying in the corridors.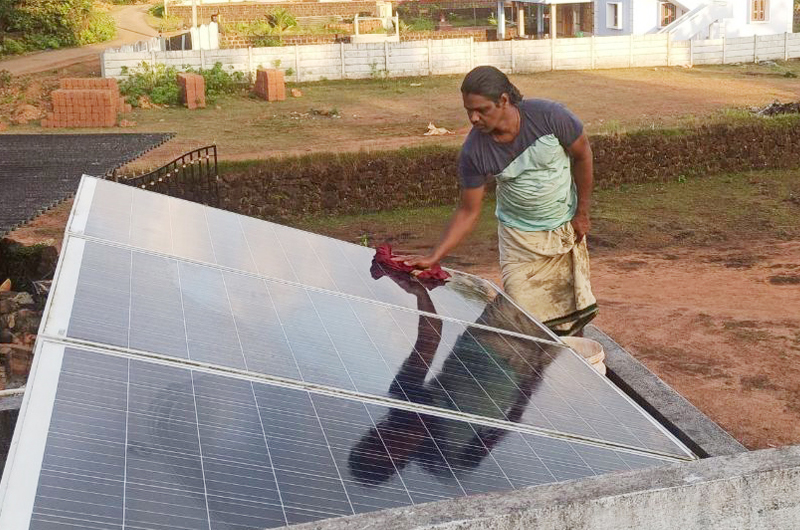 "Similarly, when I used to mix mud and water manually, it used to take around 6 hours for it to get ready for use. Now, this takes barely 30 minutes. Moreover, the quality of the finished product made on the solar wheels and using the solar mixer is superior and has helped me attract more clients," Kulal said. He doesn't rely on grid electricity for his machines to run. He says that grid electricity is erratic in the area and does not offer a reliable solution. His is one among many examples of how decentralised solar power is supporting lives and livelihoods in rural India.
Another example of the impact of decentralised solar is Asha Manugandhi, a 44-year-old enterprising woman who lives in Shikaripura Town in Shimoga District in Karnataka. She runs a small grocery shop, does stitching work and makes corn chapatis at home that she supplies to nearby households and restaurants. Around three years ago, she would push herself to make 20 chapatis a day and on time, to be ready to sell. Now she makes 50 chapatis a day, with lower effort, thanks to a decentralised renewable energy setup. Manugandhi has a solar chapati maker. "The rolling of all chapatis is taken care of by the machine, saving a lot of my time and labour. Now I can spend more time with my daughter and family besides taking care of other household work," she told Mongabay-India.
Similar is the success story of B. Manoga Naik from Gollapalli Village in the Anantapur District of Andhra Pradesh. Naik, a member of a farmer's producer organisation with 40 members, is now using a solar drier to magnify his profits from his farming activities. He used to sell only ripe mangoes in the market, which fetched him anywhere between Rs 10 and Rs 12 per kilogram. Now with the help of a solar drier machine, he is able to make a dehydrated mango product which has a longer shelf life and sells at the rate of Rs 250 to Rs 380 per kilogram. This boost in income is thanks to the solar drier that can process six quintals of mangoes in one go. Each load of mangoes takes two to three days in the machine.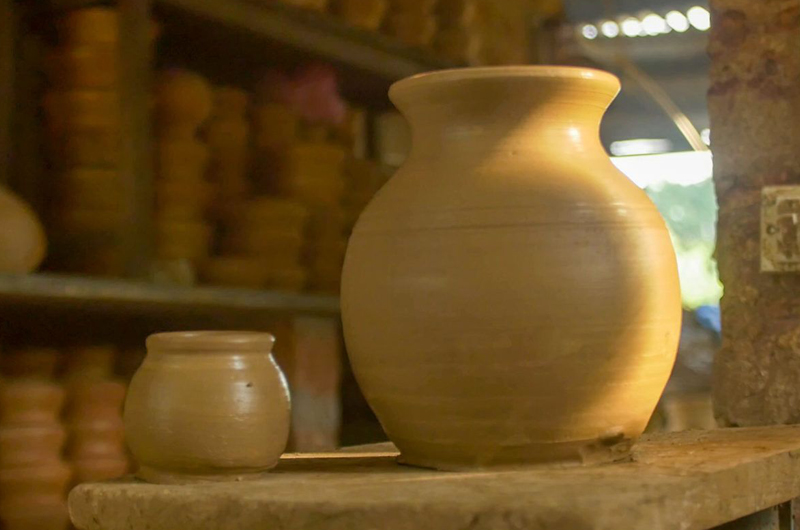 There are a several such success stories from different parts of the country where decentralised renewable energy (DRE) technologies have helped local communities in rural areas to increase their incomes and reduce trade-related drudgeries. However, Lanvin Concessao, senior programme associate at the research organisation, World Resources Institute (WRI) India, told Mongabay-India that in terms of operations and its life cycle, this energy alternative (DRE) can be cheaper for rural communities in the long run. "DRE comes as a reliable solution to these problems. It gives rural enterprises and communities reliable and cleaner power compared to the grid. Need to look beyond the initial investment. At the onset, it is expensive compared to diesel or grid-powered alternatives, but if we look at the operation part in the long run, it could be cheaper. The finance for capital is mostly through grants and subsidies that has helped low-income communities purchase these solutions. Many of the success stories in rural areas from those using DRE are encouraging others to switch to solar," Concessao said.
Concessao, however, claimed that there is a need to have more uniform policies, standards, and specifications for all popular DRE technologies to boost the sector. He said, "If you compare the most popular DRE technologies, the solar irrigation pump is one of the few technologies with detailed and publicly available specifications and standards and is expanding due to the government's push through various solar pumping schemes. We need more policy-driven directions and standardisation for other forms of DRE to make them equally popular and increase their market access."
Moving forward
The Ministry of New and Renewable Energy (MNRE) issued a framework this year for increasing the penetration of DRE across the country. It also has an indicative list of possible DRE products like solar driers, solar cold storage, and solar rice milling as well as indicated its usage in textile, agriculture, and other sectors. The framework also talks about integrating several off-grid projects of different ministries to streamline the expansion of the technology. The policy has earmarked some areas of attention that will support the penetration of DRE solutions, such as financing, upscaling, creating a trained workforce for green jobs, coordination of different departments for streamlining DRE projects, funding for research and innovations in the sector, etc.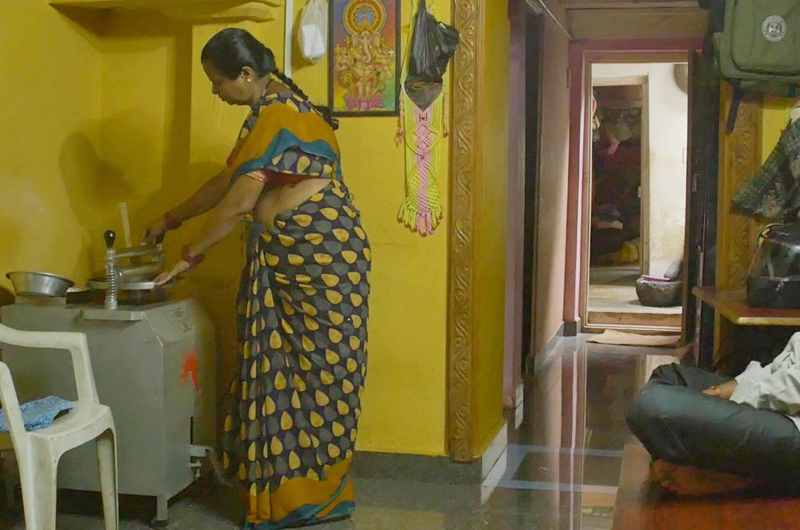 The government has planned to partner with financial institutions to ensure collateral-free loans, covering the partial risks in such loans, working towards inclusion of DRE under the priority sector lending regime, among others. It has also proposed roping in several existing institutions like the Industrial Training Institutes (ITIs) and others to create a skilled workforce to cater to the rising demand for green jobs in the country. The MNRE framework also talks about the assessment of demands by mapping of energy needs of different beneficiaries in different regions to provide tailor-made DRE solutions to them. It has also proposed technical assistance to pilot innovative projects with the support of incubations with various institutions. The ministry also plans to give financial hand-holding support for research and innovations in the sector by roping funds from existing schemes like Start-up India, Atal Innovation Mission, and others. The framework also plans to have uniform standards and testing protocols for the new DRE projects.
Policy experts on DRE claim that with the thrust of the MNRE policy, more focused attention on this technology can help bring investments in this sector. "The latest MNRE policy framework is one of the major pushes towards the sector's growth. Such policies are often followed by schemes and programmes with budgetary allocations. Such schemes on DRE can bring more investments and are likely to handle many of the existing problems of the sector. This can now help in convergence across different departments and sectors like under rural livelihood missions, Mudra loans, and others, and give DRE solutions a thrust," said Abhishek Jain, director (Powering Livelihoods) at the Council on Energy, Environment and Water.
The MNRE framework sees the huge scope of DRE solutions as it says, "DRE-powered livelihood solutions have the potential to reduce and eventually eliminate the reliance of livelihood on diesel, particularly in rural settings, and can supplement the grid supply." Solar developers that Mongabay-India spoke to said that penetration of more DRE in rural areas could help reduce migration of people to urban areas in search of opportunities that lack in rural areas. Parmeet Singh Wadhwa, operations head of Andhra Pradesh-based Raheja Solar, told Mongabay-India, "More and more penetration of DRE in rural areas can help create more jobs like in the processing sector in rural areas itself so that the dependency of such areas on urban areas can reduce. This can also help in checking migration from such areas. With more support from the government on boosting this technology, the situation in rural areas is likely to change."
(Courtesy: Mongabay India)