Shoma A. Chatterji had the opportunity to interview Dev Anand – "it was one of my prized interviews in real time, in a time and space when there was no cell phone to record interviews, or emails to send questions and receive answers, or the Internet from where one could upload information and research material," she says. 2023 marks the 100th birth anniversary of actor Dev Anand. Chatterji traces his career and lists out some of the milestones
My late publicist friend Hilla Sethna set up the interview (with Dev Anand) and I had no clue for which magazine I was planning to interview him. I need not have bothered as he did not show much interest about the magazine I was interviewing him for. When I later recalled the name, he at once told me that he knew the London-based editors quite well. After my interview appeared in the paper, the paper folded up and I failed to get my due payment. It was not important. What remains carved in my memory as a journalist is that I had met and interviewed the evergreen romantic hero Dev Anand. Sadly, I lost the typescript of the interview during my shift from Mumbai to Kolkata; so, all I have are the precious memories of one of the warmest and friendliest interviews I had ever done.
Dev Anand belonged to the Golden Era of Hindi cinema ruled by the golden triumvirate of Raj Kapoor, Dilip Kumar and himself. In those days, there was no single super-hero like it happened in the late that hit the box office each time, followed in the 1970s with the entry of the one and only Amitabh Bachchan. The three kings of Hindi cinema were slotted into the screen images that made each of them audience favourites, meeting the emotional demands of the audience. If Raj Kapoor was the naïve, tramp-like wanderer known for his naiveté and his innocence, Dilip Kumar held his own as the tragedy king of Hindi cinema with films where, as hero, he either died a tragic death in the end or did not get the lady he fell in love with. Dev Anand, perhaps the handsomest of them all, was labelled the all-time romantic hero with a kiss curl falling over his forehead, his charming smiles lighting up the screen, and the duets and solos he was a part of. The story goes that there was complete understanding and feelings of bonhomie and friendship among the three as those were not times for throat-slashing competitions. They knew their respective places and allowed their contemporaries to hold on to their own. Though everyone agreed that among the three, it was Dilip Kumar who was the most outstanding among them so far as histrionics went.
An Arts graduate in English Literature from Lahore, Dev first came to Mumbai in 1943 to pursue his dreams of becoming an actor. Riding out of Bombay Central station in a tonga (horsecart), he was struck by the dazzle of the city. Yet, he was confident he would soon be an ineluctable part of the elite circle of glamour. He stayed as a paying guest at inexpensive lodges and with obliging friends like Raja Rao, the famous novelist. He tried his luck by sitting for the exams in the Defence Services but when he could not clear the exams, he found himself working at the Army office in Pune, censoring the letters of the soldiers received and sent.
Ashok Kumar introduced the new actor to Bombay Talkies and he got a break as hero in Ziddi, opposite Snehaprabha Pradhan who had a very short career in films. But as the best romantic hero of Indian cinema for many years, Dev Anand as an actor-hero flowered the best in films directed by his brother Vijay Anand and great success came to the brothers mainly after Dev Anand and Chetan Anand founded their production house Navketan in Bombay In 1949.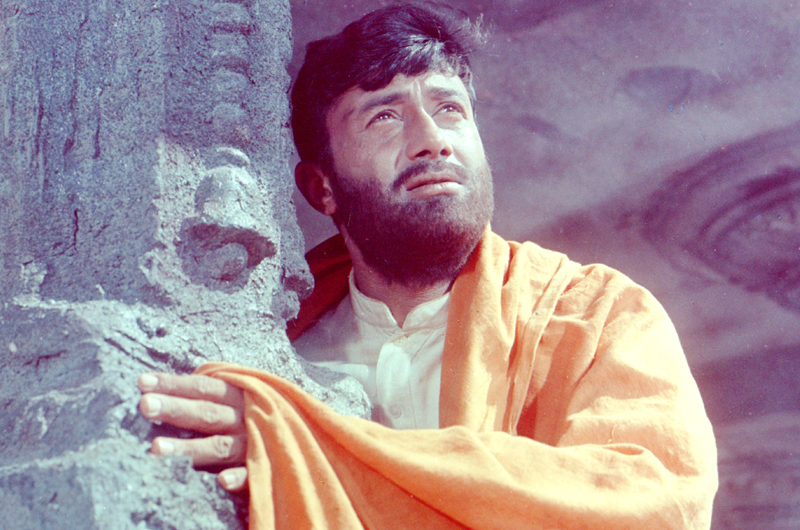 The opening shots of Kala Bazaar and some scenes in Guide bear the influence of neo-realist overtones used as a ballast to release fantasy, a technique Dev Anand imbibed from his eldest brother, Chetan Anand.The entire credit for shaping the screen personality and the characterisations of Dev Anand in the initial phase of his career goes to his younger brother Vijay Anand, one of the best directors in Hindi cinema in his time. It was Vijay Anand who shaped Dev Anand into the actor he turned out to become, churning out one hit after another under the Navketan Films banner. These films went to shape Dev Anand's screen personality as the suave, sophisticated and handsome young man who often gets trapped into a life of crime mainly through circumstance. To Vijay Anand goes the credit of a sharply-defined hero distanced from the character of Raju performed by Raj Kapoor in RK Films' Awara, who could stand on his own without being compared to his equally famous peer.
Vijay Anand wrote the script for the Dev Anand starrer Taxi Driver (1954), directed by Chetan Anand. The film was one of the biggest hits of Navketan and played a big part in giving Dev Anand his stylish screen persona even when he played a pickpocket or a card player. Nau Do Gyarah was another thumping hit of his. Dev Anand had a filmy sort of marriage when he got secretly married to Kalpana Kartik with whom he fell in love with during the lunch breaks/ shooting of Taxi Driver. They remained married till Kartik passed away years later leaving behind two children.
The final culmination of Dev Anand's talents as an actor par excellence came with the all-time classic Guide,adapted from R.K. Narayan's classic novel Guide. The film silenced every critic who felt that Dev Anand was just a chocolate-boy hero who was good in song-dance scenes and also in romancing the leading lady and finally coming out triumphant. Another film few seem to have watched in Baad Baan(1954) directed by Phani Majumdar and produced entirely by Bombay Talkies Workers' Industrial Cooperative Society Limited. It was a lovely film in which Dev Anand enacts the role of a young man who is adopted by an aristocrat and lives in mansion near the beach. We see him getting drawn towards the fishing community because he is one of them though he does not know it. The film had beautiful music and an excellent star cast made up of Ashok Kumar, Meena Kumari, Usha Kiran and Dev Anand.
Long after he had crossed the age of romancing around with girls half his age, Dev Anand broke all rules of hero-giri and continued to work as hero in his own films and did not bother whether the films were flops or successes. During this phase, he often produced and directed his own films and gave breaks to actors who went on to become successful in their own way –Zeenat Aman and Tina Munim are examples.
Above all, Dev Anand was a wonderful human being. Several young men who worked on salaried jobs at Navketan Films and who quit to seek better pastures, returned to Navketan when the outer world did not welcome them with open arms.
(The writer is a senior journalist and film historian based in Kolkata.)