Shoma A. Chatterji pays tribute to National Award-winner Soumendu Roy who passed away on September 27
With the passing away of cinematographer Soumendu Roy, the last pillar of cinema technicians involved in Pather Panchali has fallen. He was not only a cinematographer par excellence but also one of the most brilliant teachers of cinematography, as well as advisor to the Cinematography Department of Roopkala Kendro, an Indo-Italian film institute under the Information and Cultural Ministry of the West Bengal Government. A bachelor who lived alone in his apartment in South Calcutta, Roy leaves behind hundreds of students he nurtured. They are still trying to get over the loss of one of the most wonderful teachers of cinematography.
Soumendu Roy was born in Calcutta on 7th February 1932. The first ten years of his life were spent in the then-independent kingdom of Dharamjaygarh in erstwhile Madhya Pradesh, now Chhattisgarh. His eldest uncle later shifted to Calcutta with the family, including Soumendu. But sweet memories of Dharamjaygarh stayed with him for life. The first film he watched in Calcutta was Charlie Chaplin's Gold Rush. He was inspired to click pictures when he saw his older brothers using a camera, but he was not allowed to touch it as he was considered too young. Later, as a student of Teerthapati Institution, he had his first lessons in photography from his school friend, Asit Rana. The two often visited the Poly Photo Studio near Lake Market in South Calcutta and learnt how to develop negatives manually.
When he was in college, Roy's elder sister gifted him a Kodak Brownie still camera and, along with his friend, he began his lifelong tryst with photography. This segued into cinematography, which fetched him four National Awards, including one for the documentary on singer-Tagore scholar Suchitra Mitra in 1993, directed by Raja Sen. But prizes and accolades did not stop him from being grounded and modest. No one recalls him displaying temper.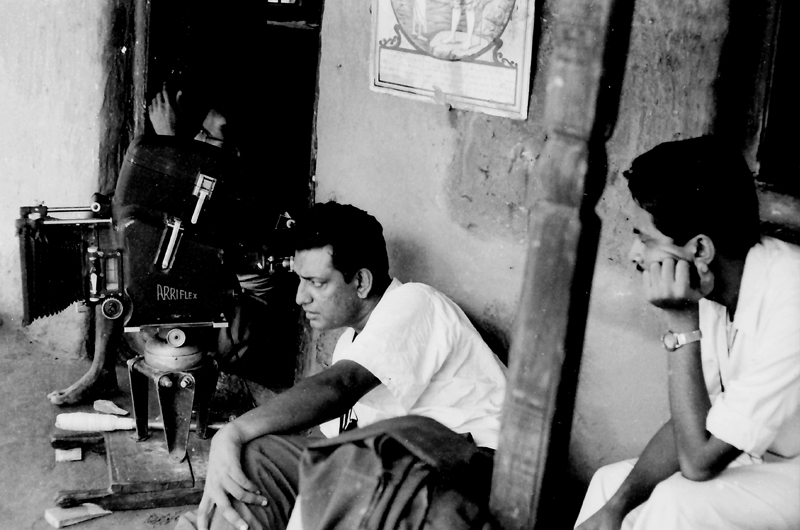 Roy and his friend happened to be present at the shooting of New Theatres' Udayer Pathey directed by Bimal Roy, and that's when he decided to become a cinematographer. In those days, it was not easy for youngsters living in joint families to join films in any capacity. Soumendu Roy was no exception. But his mother backed him and even introduced him through a relative to the then well-known cinematographer Ramananda Sengupta. Sengupta asked him if he had any older brothers to take the responsibility of the family. When he said yes, Sengupta agreed to take him under his wing. This was probably because Sengupta knew that working in cinema was financially a great risk.
There were no film institutes to provide training in the different techniques cinema demanded. Roy worked under other young cinematographers like G.K. Mehta, Ajoy Kar, Deojibhai, Anil Gupta, Dinen Gupta, Bimal Mukhopadhyay and, last but not the least, the man who created global magic through his innovations in lighting – the great Subrata Mitra. Dinen Gupta, a famous cameraman of his time who later directed some significant films, taught Roy how to handle and operate a Michelle movie camera and this led to his introduction to Subrata Mitra who was then working with Satyajit Ray. Roy and Dinen Gupta were given the responsibility of carrying the Michelle camera everyday to the shooting location of Pather Panchali. No one, including Roy himself, had any clue then that he would go on to write a new chapter in the history of cinematography in Indian.
After assisting Subrata Mitra in Ray classics, Roy got his first break with two films by Ray. One was Teen Kanya, an anthology based on short stories by Rabindranath Tagore and the other, a documentary on Rabindranath Tagore himself, both shot simultaneously in rural landscapes of West Bengal amidst the worst weather conditions. This was in 1960. "From Pather Panchali in 1955 to Debi in 1960, my training directly under the great Subrata Mitra honed my skills," Roy had said. He worked independently as a cinematographer with Ray in 26 films till Ghare Baire in 1984. Other directors he worked with are Dhirubhai Desai, Haridas Bhattacharya, Tarun Majumdar, Tapan Sinha, Buddhadeb Dasgupta, Utpalendu Chakraborty and Raja Sen. His last feature film was Atmiya Swajan directed by Raja Sen, who bagged a National Award for it.
There are two documentaries made on Soumendu Roy. One was screened at the IFFI in Goa in 2006. Directed by Papia Roy, it was titled Portrait of a Cinematographer with a run-time of 30 minutes. The other, with a run-time of 72 minutes, is called Soumendu Roy, directed and produced by one of the best archivists in West Bengal today, Arindam Saha Sardar. In May this year, Sardar inaugurated a special archive section on Soumendu Roy and named it Soumendu Sinduk. It forms part of his Jeebonsmriti Archive founded more than a decade ago.
The archive, along with Chitrabani, has organised an exhibition of Roy's personal collection – still photographs, the cameras he used, stills of the directors Roy worked with, notebooks, digital prints, stills from the films he worked on, audio interviews, video interviews, screenplays of some of the films, original posters, booklets, lobby cards, magazines, and more, and a screening of Samaptiin Soumendu Roy's memory. "This is how he wished to be remembered; that's why I have planned to revere his memory like this. He did not wish for condolences and tributes following his demise," says Sardar.
(The writer is a senior journalist and film historian based in Kolkata.)