Jordi AG, one of pioneers of digitalisation and sustainability in the print industry, has been nurturing its core expertise in print since 1897. The decision to continue using technology from Koenig & Bauer underlines the company's principal objective. Says Managing director Gabriel Jordi: "We have been building up our print expertise for more than 120 years now to ensure that we will still be here to serve our customers in future. In the hands of our team of printers, the future-oriented, high-performance technology from Koenig & Bauer, which is backed by excellent engineering, outstanding digitalisation solutions and top service, establishes a solid foundation for successful production at a reliably high level."
Jordi's strategic goals and its specific print portfolio formed the basis for a detailed evaluation process that was conducted between several leading manufacturers. This process served to pinpoint the production solution best suited to satisfying the company's future requirements.
The outcome was once again the decision to invest in a sheetfed offset press from Koenig & Bauer. An order was placed for an eight-colour Rapida 106 X with a perfecting unit for 4-over-4 production and an additional coater for inline finishing.
The 3B-format Rapida 106 X (max sheet format 740 × 1060 mm), which was manufactured to German quality standards at the Koenig & Bauer plant in Radebeul near Dresden, is highly automated for the shortest possible make-ready, delivers excellent print quality and is packed with features that enable Jordi to maximise energy efficiency without compromising on productivity. The intuitive operating concept TouchTronic with its AutoRun functionality for autonomous production of a prepared job list implements all the very latest standards. The extremely fast and highly precise QualiTronic ColorControl inline measuring and control system, which scans and evaluates every single sheet, in combination with QualiTronic PDFCheck (comparison with a pre-press PDF and subsequent sheet inspection during actual production) allows significantly enhanced quality to be achieved, errors to be detected at the earliest possible moment, and waste to be reduced. Automatic PDF comparison also makes quality control activities much easier for the printers.
The sidelay-free infeed DriveTronic SIS and the ability to disengage unused inking units are standard features of the Rapida 106 X. Other highlights include long-life gripper shafts with automatic lubrication. They simplify maintenance work considerably – as do the pneumatic ink ducts. The simultaneous plate changing system DriveTronic SPC handles unbent, process-free plates and allows parallel make-ready processes.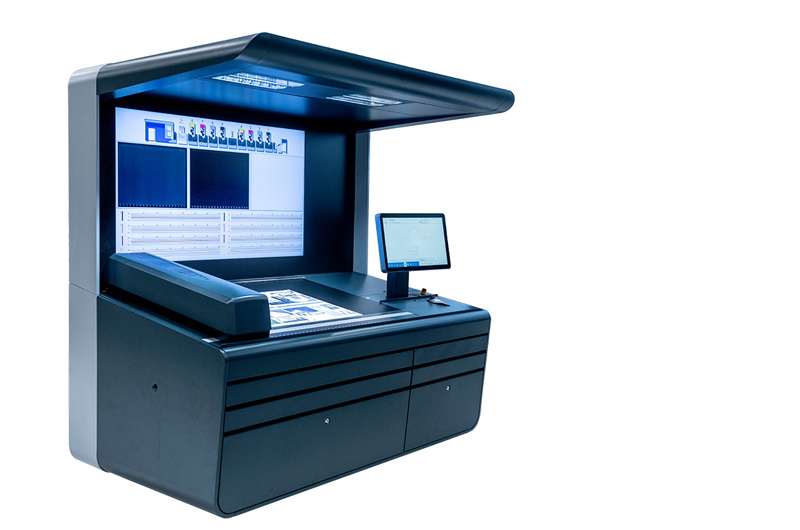 The incorporation of high-efficiency VariDryBlue dryer systems achieves significant energy savings when finishing with dispersion coatings. The already warm – but not yet saturated – air from the first dryer section is re-circulated for use in the following modules. This reduces both the dryers' heating energy input and the waste air volume, with less fresh room air needing to be drawn into the system and a correspondingly lower power consumption for cooling and air conditioning.
The new Rapida 106 X is fully integrated into a digital printshop workflow by means of the production management system LogoTronic. The LogoTronic Cockpit offers the print management team at Jordi a real-time overview of key performance indicators – for analyses or for KPI benchmarking. The Rapida LiveApp even allows the press to be monitored and controlled using mobile devices. All available data from pre-press or from an MIS/ERP system can be used to rationalise press inputs and further accelerate make-ready. Through digital integration, waste reduction and its optimised use of energy, the Rapida 106 X contributes to increase sustainability and resource efficiency.
The overall portfolio of cutting-edge technologies, the enormous performance increases that can be expected, and the extremely fast make-ready of the Rapida 106 X convinced the team at Jordi that this was the right investment decision. What's more, the team is more than satisfied with Koenig & Bauer's competent team of Swiss technicians and project engineers, and appreciate the modern service concept and 24/7 remote maintenance function.
"We believe in print." This philosophy is followed with passion by the management and the entire workforce at Jordi. Maria and Friedrich Jordi, the great-great-grandparents of today's managing director Gabriel Jordi and his brothers, established the company in former stables in Belp in 1897. The family business has continued to develop over the generations. The past 30 years have witnessed particularly dynamic growth. The company has long since expanded beyond the local region, and its customers today come from all over Switzerland.
With www.printzessin.ch, Jordi has also set up one of the most successful online shops in the industry. Only recently, it picked up three Digital Commerce Awards. "Print is alive! And what is alive, also evolves. And so too have we evolved over the years – from a classic printshop into an innovative service provider – and have established a firm standing on the market. For almost 130 years, we have expanded our expertise in the printing trade to ensure that we can continue to serve our customers in future," says Gabriel Jordi.