This is a story about yeomen efforts towards getting vulnerable families in Rajasthan's Baran District to understand the importance of nutrition
On a hot summer afternoon, Jasmine is in deep sleep on a rope cot under a tree in the courtyard of her house in village Jagdishpura, Kishanganj Block, Baran District of Rajasthan. Baran is 264 km away from the state capital, Jaipur. As her mother, Jyoti, hesitantly comes forward to watch over her 45-day-old, it's very evident that she is an underage mother. Not surprising that a quick check of records showed that Jasmine weighed only 1963 grams at birth in April 2023.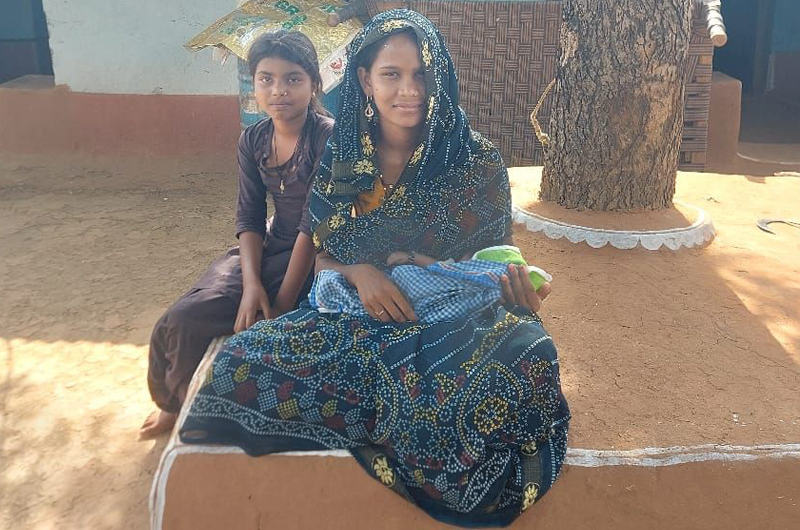 Despite several gentle questions, Jyoti's inherent shyness, which is a natural part of the demeanour of the Sahariya Tribe to which she belongs, makes her reluctant to interact with outsiders. Only when Poshan Champion Anil Balai steps in does a little information emerge. Her husband is a daily wager. "My sister and I look after the baby ourselves, as there are no elders in the family," she says.
Just a few houses away, Sakriya and her husband Karan Singh are looking after their 18-month-old son Deepak. His weight dropped recently following an episode of diarrhoea. The drop in weight is reflected in the Poshan Champion App, with which Anil has been tracking Deepak since his birth. As the RajPusht team counsels the family towards proper hygiene, they also underscore the importance of proper nutrition.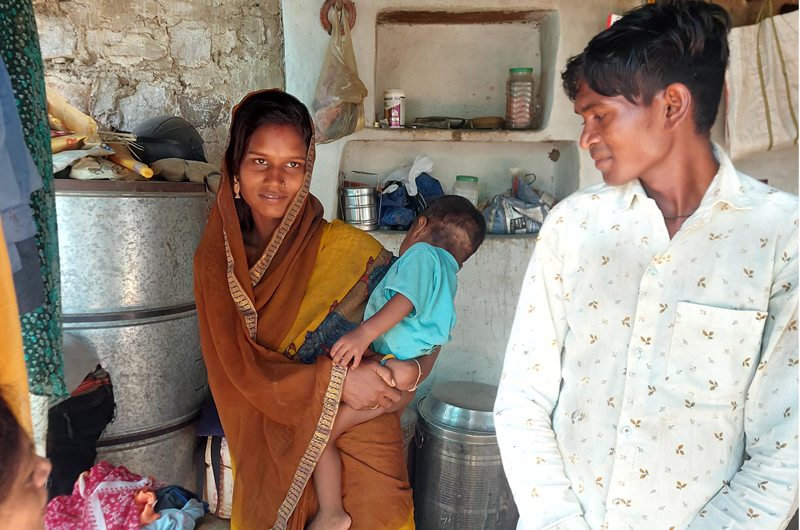 The RajPusht Project has information about all the vulnerable families in Baran through its robust cadre of Poshan Champions. Each Poshan Champion works with 40-50 anganwadi (nursery) centres and is managed by a local civil society organisation, Sanskar Seva Sansthan. Having completed basic education up to Class XII, they have undergone a two-day training on interpersonal communications, and how to take anthropometric measurements and provide nutrition counseling, using the mobile Poshan Champion App.
Trained and armed with the appropriate information, the Poshan Champions are at the forefront within communities to support health frontline workers such as the auxiliary nurse midwife (ANMs), anganwadi worker (AWWs) and accredited social health activists (ASHAs) to improve maternal and child nutritional outcomes.
IPE Global's RajPusht project efforts in Baran are much needed. In earlier years, Baran was often in the news for malnutrition-related deaths. Regular contact with the vulnerable families is essential. The National Family Health Survey (NFHS 5) recorded that 20.5 per cent women in Baran have a body mass index that is below normal – less than 18.5 kg. Additionally, a significant number of women aged 15-49 years – 60.1 per cent – are also anaemic. Baran still has some ground to cover with breastfeeding which is at 63 per cent, but that's still way better than Rajasthan's overall 40.7 per cent.
In the adjoining district of Kishanganj at Jaitpura, a worker at the anganwadi centre, Nasim Bano, speaks about severely malnourished Gujjar children in her area. One is seven months old and the other three years. She talks of how she identified a pregnant woman whose haemoglobin level was 5.5. "She registered late with the AWC but we were able to counsel her and get her haemoglobin to nine," she explains.
For the RajPusht Project, early information is critical for interventions. With Poshan Champions on the ground, the information sharing and coordination with the frontline workers provide a fighting chance to recover any lost ground that many vulnerable families face. Nasim shares, "When the children were born, they were healthy. Women in the family have to go out to work, and that's why the children were deprived of adequate nutrition." This understanding within the community will continue to bring down the rate of the severely wasted children in Baran that has come down from 10 in NFHS 4 to nine in NFHS 5.
About the Poshan Champions, Nasim says, "We work together, we exchange information and with the changes in the cash transfer scheme, I seek their support to fill in the forms correctly." She is referring to the registration of the Pradhan Mantri Matru Vandana Yojan and Indira Gandhi Matritva Poshan Yojana.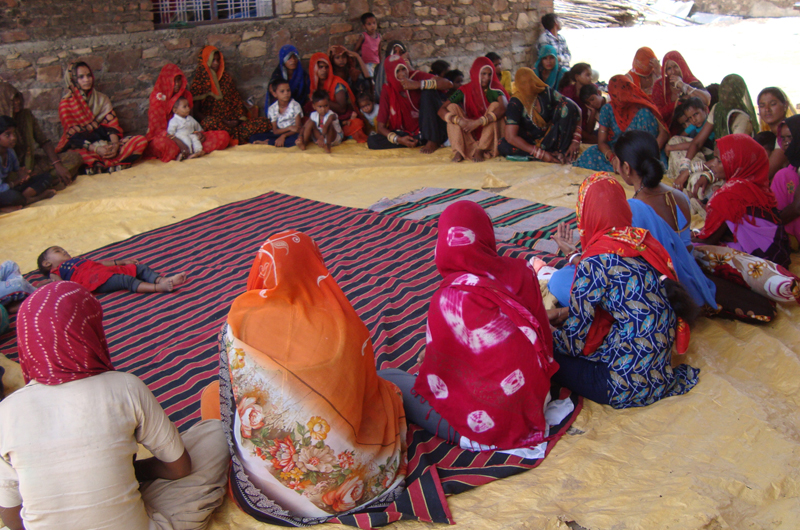 It's not enough to work with pregnant and lactating women. The RajPusht Project has piloted Participatory Learning Action-led Village Health Sanitation and Nutrition Committee meetings in five districts, including Baran. In Village Dhikoniya of Kishanganj Block, as ASHA Sheela Barman prepares for a meeting, she checks if women and their family members are present. The topic for the day is proper breastfeeding and Sheela uses props and IEC material to get those present to understand the importance of exclusive breastfeeding. The aim of such meetings is to get more family involvement in looking after pregnant women and later, when they are lactating mothers.
The endeavours over the past few years are gradually bearing fruit. In Village Gatta of Chhoti Kishanganj Block of Baran, 23-year-old Laxmi, who is expecting her second child, is in a counselling session with the Poshan Champion, Rajendra Kushwah. He weighs her and informs the family, "Her weight is now 54 kilos. Remember she was only 42 kilos two months ago?"
As the family – her husband Raj, her mother-in-law Shanti and sister-in-law – join the conversation, Rajendra checks with Laxmi about the messages that he had shared about proper nutrition. Smiling and confident she says, "I am having vegetables." Her mother-in-law, Shanti 48, after referring to her time when children were born at home and rarely vaccinated, says, "Her sonography and immunisation are all complete. She is eating well and that is important." Her husband works in a factory.
Laxmi Narayan Mewat of the Sanskar Seva Sansthan, Baran, is the programme manager responsible for training and monitoring the PCs' work in Baran. Eight of them are women. "Apart from the knowledge training that the Poshan Champions require, we have also provided them an attitude training, including how to dress and why they should not consume gutka (chewing tobacco preparation) while conducting their home visits," Laxmi Narayan says.
CDPO of Blocks Kishanganj and Shahabad, Ravi Mittal, says that in 10 years there has been a lot of change in Baran District. However, he adds, the Government has limited resources and depends on development partners such as RajPusht as "we cannot reach out to all the Sahariyas on our own. There is the issue of migration. Alcohol and tobacco consumption remain high in these communities."
Mittal mentions the efforts of the government's Prashasan Gaon Yojana and explains that the cash transfer scheme is gaining momentum step by step. "The Poshan Champions' support to the frontline workers on the cash transfers has been very good," he says. He adds, "Today we are in a situation where we get information in 10 days, allowing us to take the correct steps ahead."
    (Sushmita Malaviya, reporting from Baran District, Rajasthan.)