Seerat Basheer profiles a young man in Kashmir who is determined to break gender stereotypes and promote yarn-based crafts such as crocheting, not only as income generators but as stress-busters too
Twenty-three-year-old Nazar Nasir of Lal Bazar, Srinagar, is the only man in Kashmir. When Kashmir was placed under a severe lockdown in 2016, his artistic career began. He says he just happened to learn crochet work – his aunt was trying to teach his sister some fundamental techniques and he watched her wield the hook and yarn to create rows of loops, perhaps out of boredom or curiosity. And he was hooked!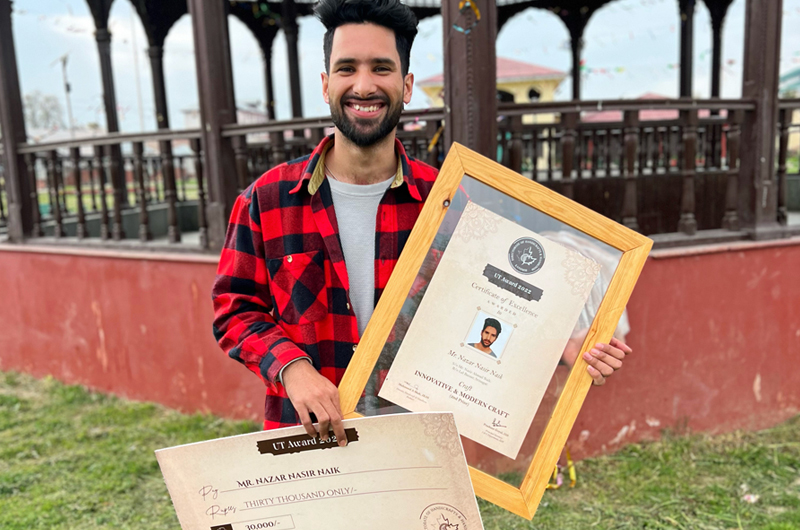 Nazar recalls staying up until two in the morning to see what he could make of it, and finally came up with a little flower. He didn't realise until the Internet was restored that there was a wealth of material on the craft available digitally. It opened up a whole new world to him, and inspired him to be more and more creative.
When family and friends appreciated his talent, the young man, who holds an honours degree in English Literature, created an Instagram account called Knotty Crafts in 2018 and offered his work for sale online. Orders started pouring in. Nazar has since learned the arts of knitting and macramé, and plans to add to his repertoire. And his initiative has blossomed into a small enterprise.
Nazar finds it a challenge to perform all the tasks necessary to operate a small business by himself – from procuring raw materials to producing the craft items and packaging and delivering the finished products to customers, apart from handling queries, taking photographs of the products, and working on the marketing aspects. He is thinking of employing others skilled in these crafts, to help him in his enterprise. "Kashmir has one of the highest rates of unemployment among Indian States. So, it would be a great step to create some jobs, and give people creative ideas," he says.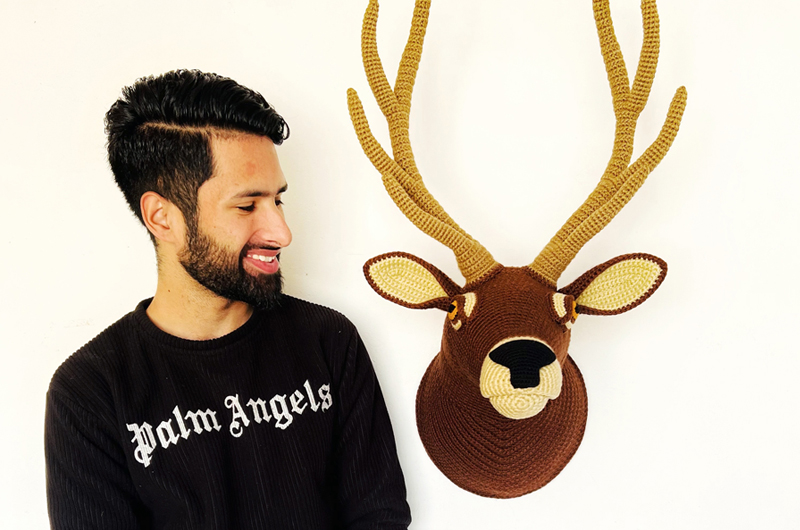 And employment generation is not the only benefit of practicing a craft, as Nazar will testify. He was diagnosed with Paroxysmal supraventricular tachycardia (PSVT) in 2013 – it is a condition that causes the heart rate to accelerate, and the situation is aggravated by stress, worry or trauma. He says spending time on crocheting, knitting and other arts has helped him manage his overall mental and emotional health and considerably reduce the symptoms of his ailment. He feels such pursuits will help tackle many problems that trouble society at present.
Mental health issues have been rising at an alarming rate recently, particularly in Kashmir, as a result of many issues. Knitting and crocheting have been scientifically shown to help with problems like anxiety, stress and hypertension."I view crochet, knitting, and other crafts as a great way to channel negative psychic energy into something useful that could serve as a means of positive expression and a source of income. I can conduct workshops on these arts for all age-groups. Everyone can engage in them as a therapeutic hobby," says Nazer.
Most importantly, Nazar says, the mindset that yarn-based crafts are feminine pursuits should be broken. "I've received a lot of negative feedback. Because we have treated this profession poorly, there are many stereotypes. Even within the female population, it has been reserved for grandmothers. Young women are unwilling to try it," he says. Nazar plans to host events, awareness campaigns and seminars that will challenge the gender bias associated with such crafts.