Speakers and participants at a three-day international conference on millets organised by the MS Swaminathan Research Foundation in Chennai shared insights into how this underutilised family of cereals can transform the nutrition landscape
"Make millets a people's movement, because it is not only a matter of individual health, but also of the health of the soil and ecology," said Union Minister for Women and Child Development Smriti Zubin Irani. Delivering the keynote address at an international conference title, Mighty Millets for Food, Nutrition, and Health Security, hosted by the M S Swaminathan Research Foundation (MSSRF) from August 6 to 8 in Chennai, she said: "One of the greatest challenges is the procurement of millets, and state governments should ensure sufficient production to meet demand."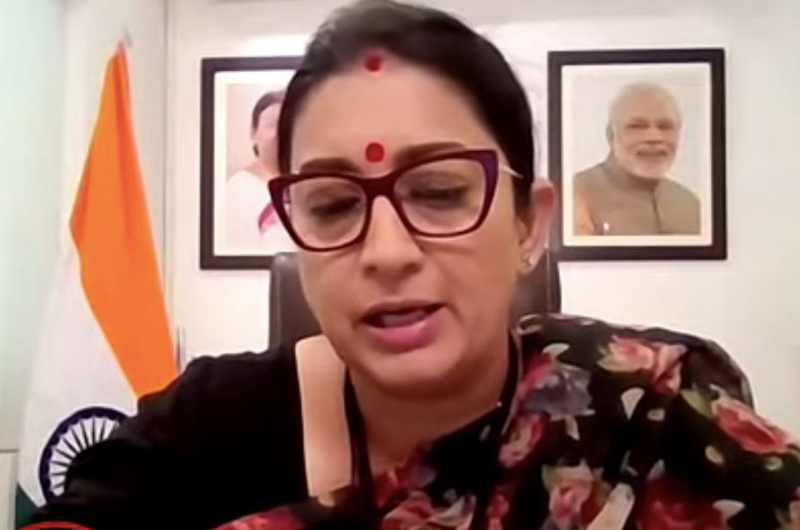 The minister underlined the importance given by the Women and Child Development Ministry to the inclusion of millets in early childhood development care, according to an MSSRF press release. Speaking about the Central Government's many programmes to ensure better delivery of nutrition among vulnerable populations, she noted that, "Apart from government intervention, there is a pressing need for engagement of young mothers in instilling better child nutrition habits."
Tamil Nadu's initiatives
Tamil Nadu Minister for Food and Civil Supplies R. Sakkarapani said the TN State Government would extend the implementation of the five-year Millet Mission to 20 districts, and 50,000 acres of land had been allotted for the cereals under the Tamil Nadu Millet Mission. "Millets will be distributed through the public distribution system (PDS) at subsidised rates, and incentives will be given to bring fallow land under millet cultivation," he announced, adding that the move would ensure crop diversification.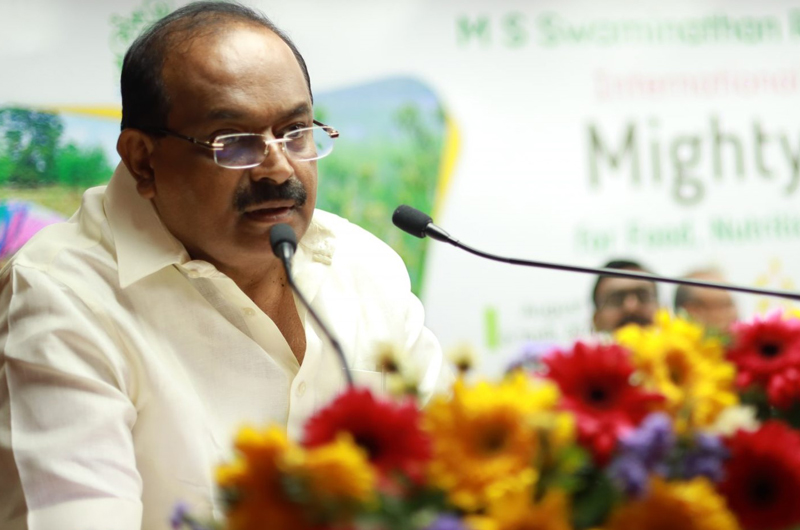 Sakkarapani emphasised the importance of including all types of millets in day-to-day diet. "Millets have calcium, phosphorus, fibre and protein – all essential for our health," he pointed out, speaking at the inaugural function of the three-day international conference. The minister also released the MSSRF Annual Report and inaugurated a millet exhibition showcasing several leading millet farmer / producer organisations, millet processing and product development companies and national millet research institutions. He interacted with tribal farmers who attended the meet as well, the release said.
'Renewing commitment to nutri-cereals'
Dr Soumya Swaminathan, MSSRF Chairperson, said, "Decades ago, Prof M.S. Swaminathan coined the term 'nutri-cereals' for the millet family to emphasise their role of filling the gaps in nutrition and health, and also food insecurity." She added: "My father's dream was that there should be at least two knowledge workers in every village, and at MSSRF, we look forward to recommitting ourselves to that vision."
Commendable progress
Konda Reddy Chavva, assistant FAO representative, Regional Office for Asia and the Pacific, FAO-India, lauded India's commitment towards combating food insecurity and malnutrition, as well as the country's leadership in promoting millets, an important yet underutilized food source. Ruth DeFries, professor of Ecology and Sustainable Development, Columbia University, New York, said: "Our planet has reached a tipping point and we have an abundance of evidence that climate change is now a reality. But there is a more positive and hopeful tipping point happening today at this conference, with the revival of the climate resilient traditional millets. The way forward in humans feeding themselves by utilizing natural bounty is through the revival of millets."
Elisabeth Faure, representative and country director, UN World Food Programme, India, said: "Millets are a powerful weapon against global hunger and malnutrition. A global hunger crisis of unprecedented proportions is prevalent worldwide, and we are at the critical crossroads between the challenge of meeting people's needs immediately and building long term resilience. Millets can emerge as powerful weapon in this war."
Odisha shows the way
Arabinda Padhee, principal secretary, Department of Agriculture and Farmers' Empowerment, Government of Odisha, in his special address said: "The Odisha Millet Mission is an excellent example of how millets can become part of one's everyday diet." He also emphasised that millets can boost income for smallholder farmers, especially those engaged in rain-fed farming. "The Odisha Government has been working on convergence policies, and given the importance of millets in terms of procurement, consumption and health, we have extended the Odisha Millets Mission to another six years," he pointed out
Delivering the Professor C. Gopalan Memorial Lecture at the conference, Vinod Kumar Paul, member, Niti Aayog, Government of India, stressed the importance of "Poorak Aahar or complementary feeding for babies," saying it is as crucial as breastfeeding. Quoting statistics from the National Family Health Survey data (NFHS-5), he noted that, "Whether one is rich, or middle class or poor does not make a difference in terms of how infants are fed in the country, and this could be one of the reasons why stunting (appropriate height-for-age) is not showing expected changes."
However, the NFHS 5 data also showed that there is scope for improvement, as there are states that have made positive changes – especially Odisha, Paul said. Focus on complementary feeding and adequate diets for infants and children below five years must be a collective action and such behavioural change is key for progress, he emphasised.
Vennila Sivakumar, director, Kolli Hills Agrobiodiversity Pvt Ltd, Tamil Nadu, and Laichan Sukia, a progressive millet farmer from Machhara Village in Koraput, Odisha, were among those who shared their perspectives on millet cultivation.
In her valedictory address at the three-day conference, Dr Soumya Swaminathan said: "Although 2023 has been declared the International Year of Millets, it should not hinder us from continuing to champion 'mighty millets' in the future. Their nutritional benefits are enormous, and we must therefore persist in our goal to advocate millets for all beyond 2023."
Bridging the digital gender divide
MSSRF's initiative among fisherwomen aims to help them harness technology
Five fisherwomen representing the coastal districts of Nagapattinam, Mayiladuthurai, Cuddalore, and Ramanathapuram in Tamil Nadu, and Karaikal in Puducherry, received tablets (small computer) from Dr Soumya Swaminathan during the launch of the Women Connect Challenge programme at the Mighty Millets Conference. The Foundation's Fish for All Research and Training Centre at Poompuhar was one of the seven winning proposals out of 260 contenders for the Women Connect Challenge Award for 2023 given by the Reliance Foundation and USAID, an MSSRF press release said.
The Poompuhar Centre is developing a range of information and communication technologies (ICTs) to reduce the digital gender divide among women by enhancing digital literacy and knowledge on post-harvest management and enterprise development in the fisheries sector. As many as 6000 fisherwomen from 100 coastal villages will benefit from the programme.
The Women Connect Challenge is a global call for ways to improve women's participation in everyday life by meaningfully changing the way they access and use technology. It aims to bridge the digital gender divide and increase women's economic empowerment through challenging social and cultural perceptions, developing skills and opportunities, building confidence, growing community advocates, and designing creative women-centric technologies.
Sharmila, a fisherwoman from Vanagiri Village in Mayiladuthurai District of Tamil Nadu, spoke of how the programme would enable her to access advanced technologies to improve her dry fish business, the release added.