Over three decades and more, the Research Institute for Newspaper Development, better known as RIND, has become synonymous with workshops that are conducted for the benefit of technical staff in news publishing houses, equipping them with knowledge relating to developments in the field of newspaper production and publishing, as well as the skills necessary to function effectively. A seminar held on April 22 at the RIND Premises focused on best practices in running a web offset press.
Mohanraj P., AGM – Production, The Hindu Group, kick-started proceedings with a succinct coverage of standard operating procedures for newsprint reel handling (unloading, checking for damage, storage, splice preparation and web threading, problems associated with newsprint quality and reel damage). V.S. Narayanan, general manager – Technical, Dinamalar, followed this up with a broad and comprehensive sweep of aspects relating to web tension (web tension control mechanism in web-offset, setting right tension for different paper types, problems associated with web tension). The post-lunch session saw Prof. Rajeswari, head, Department of Printing Technology, Anna University, explain the technicalities associated with press start-up and ink-water balance (SOP for press start-up, fountain solution, inks, ink-water balance, quality checks for ink and fountain solution, problems associated with ink viscosity, tack and poor ink-water balance). Sekar Subramani, DGM – Production, The Times of India (BCCL), brought to the fore many practical aspects connected with rollers and blankets (pressure setting for rollers and cylinders, life of rollers and blankets, quality problems associated with rollers and blankets), relating mostly from his own experiences.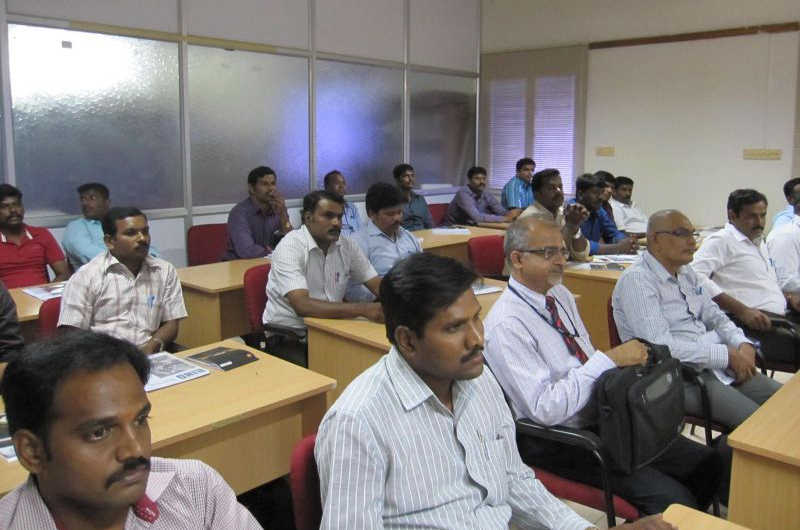 The seminar saw a packed audience comprising technical executives and staff from several newspapers in India, big and small –Ananda Viktan, Deccan Herald, Dinakaran, Dinamalar, Kalki, Malayala Manorama, Suddi Moola, The Hindu, The Times of India and The New Indian Express. There was representation from DIC, Delhi as well. The presentations were backed by some excellent slides, showing pictures and illustrations. Pictures show Mohanraj P. explaining the standard operating procedures for newsprint reel handling and some of the participants.