The Press Institute of India and UNICEF conducted a Child Rights orientation programme at Chennai's MOP Vaishnav College for Women on September 7. More than 150 students in the Journalism Department and the faculty members attended.
Arun Ram, senior editor at The Times of India and deputy resident editor of its Chennai edition, dwelt at length on the aspect of news worthiness, on the elements that constitute news (such as prominence, timeliness, proximity), and explained why stories relating to children do not find much space in mainstream media as is perhaps merited. However, children- and child rights-based stories were indeed being published, he said, based on timeliness, proximity, etc, adding that campaigns or a series of stories were also run on certain issues from time to time.
Job Zachariah, UNICEF chief for the Field Office of Tamil Nadu and Kerala, made the point that while a disaster or tragedy resulting in many deaths made banner headlines on the front pages of newspapers, the deaths of as many or more children due to starvation or malnutrition or other causes hardly made headlines. Later, Zachariah encouraged the students to help children fight for their rights, to speak out against child abuse and to approach the Child Helpline number 1098 whenever they knew about or spotted cases of abuse.
Sugata Roy, communication specialist, UNICEF (Tamil Nadu & Kerala), presented a case study and asked the students what they would have done in such a case if they were journalists. His emphasis was on the need for journalists reporting on child rights and related issues to be fully aware of the various laws in force and the appropriate measures to be taken to ensure that children were protected.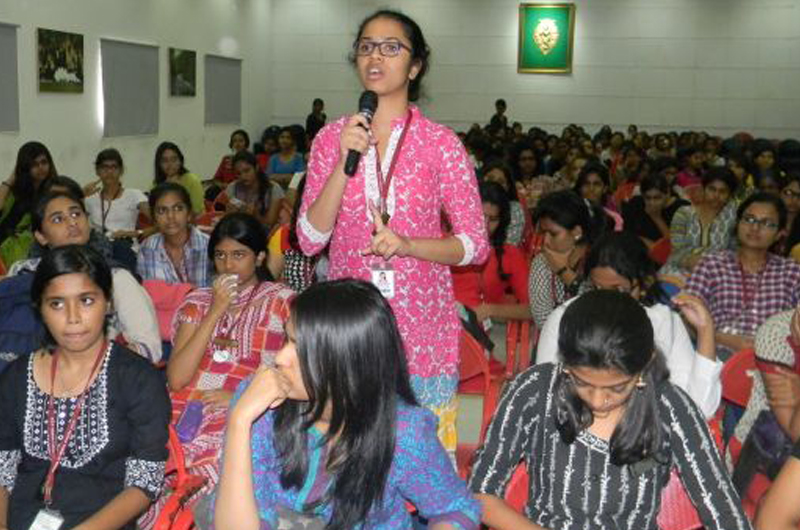 Earlier, setting the tone for the seminar, Sashi Nair, director, Press Institute of India, stressed the need for journalists to double-check copy, and to exercise fairness and accuracy while reporting. He said regular follow-up stories by newspapers would help generate better results on the ground and a subject once flagged off, would not be then forgotten in a hurry. The panel fielded a flurry of questions from the students, most of them relating to the lack of adequate coverage of abuse against children by the media as well as the lack of specific and meaningful effort by the administration and the law to quell such occurrences.
Also present at the seminar was Sandhya Rajasekhar, head of the college's Department of Journalism, and Sathyabama Oppili, professor in the department.