The Press Institute of India finally got back to hosting proper programmes after more than two years, with a series of talks during Madras/ Chennai Week.
In the first, Justice (Retd) Prabha Sridevan effortlessly steered the conversation with Manohar Devadoss and Sujatha Shankar. It was a lovely evening – the canvas loaded with information, stunning illustrations and commentary, punctuated by humour (Manohar's mainly). 'Madras Inked… Impressions of an artist and an architect' is an extraordinary book. It must have been a painstaking but extremely satisfying effort for the authors – Sujatha explaining with narratives the subjects of Manohar's fine drawings and sketches. Together, they weave an quite an amazing tapestry of Madras that is Chennai – the institutions that were established in Madras, the homes that are their memorials in the city and other icons of Madras come alive in the pages.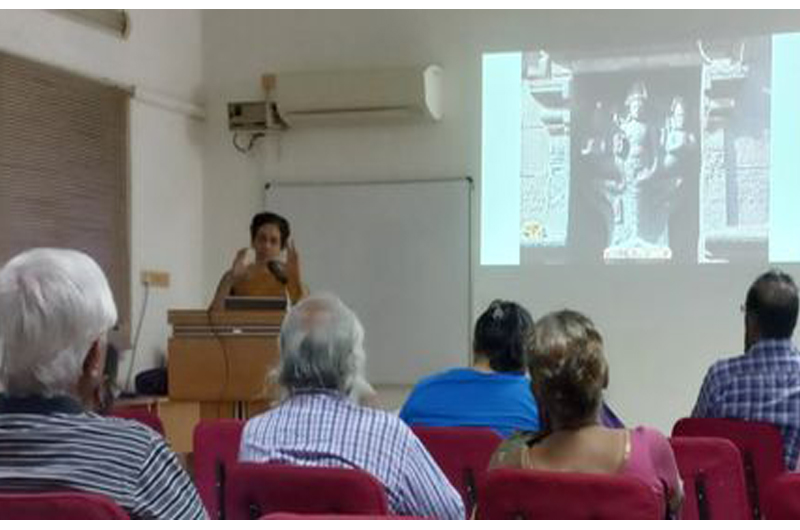 The second talk/ presentation by Dr Chithra Madhavan brought to the fore several interesting aspects about the Adipurishwara Temple in Thiruvottiyur, one of the oldest in Chennai. She dwelt on the temple's history, art and architecture. The highlight was an engaging interaction between Chithra and a few in the audience who knew the temple and its history well and, in the process, it turned out to be a learning experience for everybody.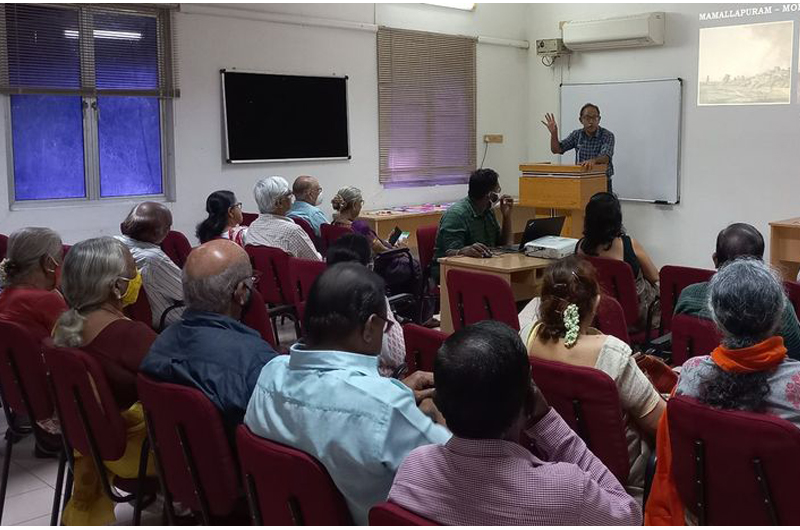 Pradeep Chakravarthy and Vinita Siddharth took the audience on a thoroughly enjoyable journey the third evening, tracing the fascinating history of the Pallavas – their origins from central and north India, especially the Telugu region, through the reigns of Narasimhavarman, Mahendravarma II, Rajasimha (from 630 to 729 AD), how Kanchi became their capital, to the dynasty's eventual downfall in the 10th Century. What was most interesting though was Pradeep's story about their temple sculptures laced with fun elements and Vineeta's about the ancient traditional games seemingly etched on stone in the area around Krishna's Butterball (the gigantic granite boulder resting on a short incline we have all seen), including a short video highlighting her discovery.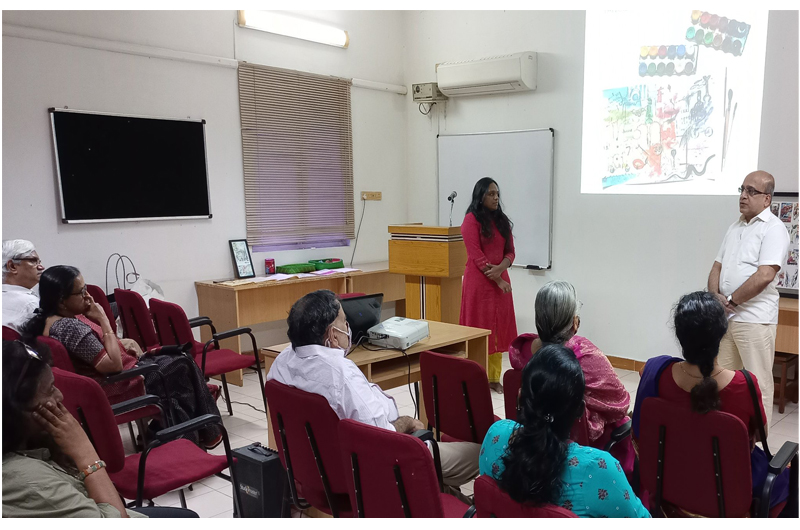 Finally, interesting commentary by Thirupurasundari Sevvel backed by real-life stories and some absolutely fascinating, colourful sketches and drawings of people, animals, homes, an autorickshaw here, a post-box there, roads, temples, street corners, statues, and old clippings of newspapers – this was "mapping the living heritage of Madras – understanding the tangibles through intangibles" last evening. The curtains slowly came down as she brought alive memories of life lived in these places in the 1970s and 80s.
Pictures from these events…