For a Chennai boy who had never experienced snow in his life, a visit to Vancouver turned out to be quite an extraordinary experience, blanketed as the city was by snow. R. Venkatanathan describes the visit
My wife and I planned a trip to Canada to meet up with our daughter over the Christmas holidays last year. As Toronto, where our daughter lives, gets extremely cold in winter, with the mercury falling to -20 degrees C at times, we decided to meet up in Vancouver instead, where temperatures are normally well above zero even at the end of the year. However, an unexpected winter storm just when we were scheduled to reach Vancouver blanketed the city in snow and caused the airport to be shut down for two days.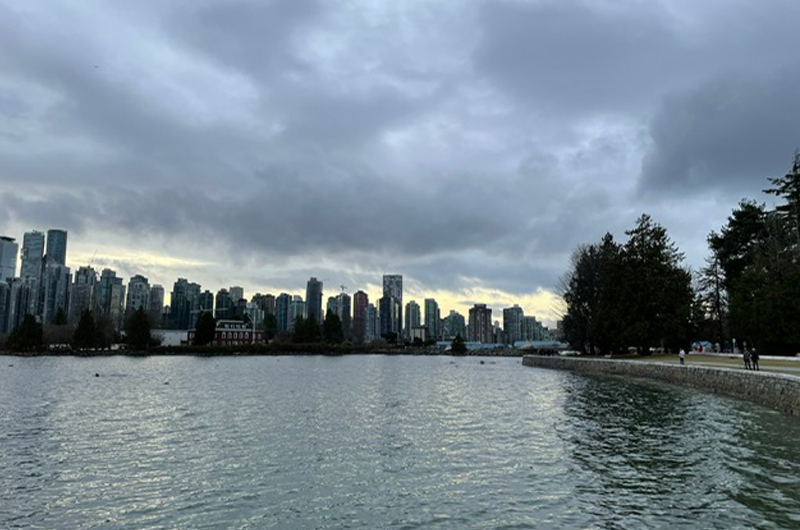 We finally reached Vancouver after a day's delay. There were many Punjabi-speaking people at the luggage carousel as well as prominent ads for Nanak Dahi – 'Asli dahi made in Canada'. There are a large number of immigrants from Punjab in Canada, and there are North Indian restaurants in every locality.
It was quite tricky to negotiate the icy road with luggage and reach the taxi. We were forced to travel at 30 kmph even though it was 6 am – the roads were snow-covered. "Vancouver is not prepared for such snow storms, the roads do not get cleared by snow ploughs as promptly as in other cities in Canada," said our taxi driver.
We had to buy proper snow boots straightaway in order to be able to walk on the streets. The Air BnB house we had rented was in a quiet residential neighborhood. The selection was a no-brainer for us, because the website said it was a '10 min walk from House of Dosa and Dosa Factory'.
The two dosa outlets are run by Sri Lankan Tamils, as is a small Indian grocery shop, Jeya Stores. We also chatted with a lady who owns an Indian restaurant in downtown Vancouver, serving excellent biryani and kadhi – "I was working for several years with a local Canadian bank before I decided to open this restaurant," she told us.
We had an interesting experience at an Ethiopian restaurant, too. The menu was mainly in the Ethiopian language, but we found an entry which read 'Platter for two' and ordered that. The food was served in a large stainless steel plate just like our thali, with various dishes arranged on it. We realised that there was a 'neer dosa' like base, and diners were expected to eat communally from the same plate. "Our cuisine is very similar to Indian, we use similar spices, lentils, etc," said the Ethiopian owner. "Our bread is like your dosa."
The weather improved significantly and we were able to enjoy the sights of Vancouver over the next several days. Stanley Park is the best-known attraction – right in the middle of the city, offering panoramic views of the Pacific Ocean and snow-clad mountains as you walk on the 10-km-long waterfront. Granville Market is another must on the Vancouver itinerary. It is a vast area by the waterfront, packed with outlets selling fresh produce, art and craft, restaurants and microbreweries, coffee and chocolate shops. We spent some time at a shop devoted to brooms of all shapes and sizes. Any witch would have a field day in this place.
The Botanic Garden was lit up for Christmas. It was bitterly cold in the evening and visitors had to wait under a makeshift awning for the gates to open. Fortunately, there were heater coils, fixed to the ceiling, not on the floor, as one might expect. The illuminations were spectacular, and had different themes. The small lake in the center of the garden was frozen over. After a couple hours spent strolling around, we stopped for fondue and mulled wine, seated out in the open, with fires and roof heaters to keep us comfortable.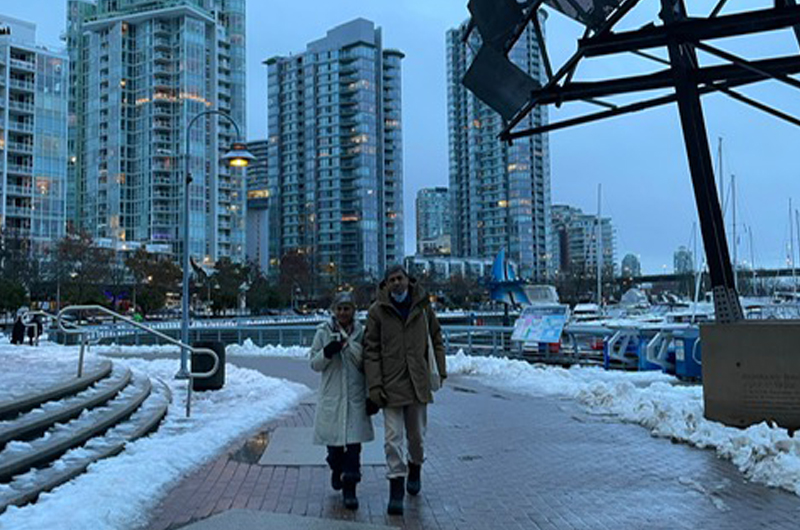 The highlight of our holiday was a day trip to Whistler – one of the largest ski resorts in the world, which also hosted the Winter Olympics in 2010. It is a scenic 2.5-hour drive from Vancouver. As we drove through downtown Vancouver, our driver told us that that almost 80 per cent of the apartments there were owned by foreigners and lying empty. "The government is proposing a tax on empty apartments," he said.
It was peak season, two days before New Year's Eve, and Whistler was packed with skiers. The peak-to-peak gondola ride was recommended to us by friends. The cable car ride is in three stages. Stage 1 took us up to the first peak where we got off and watched the skiers and skate-boarders. (The cable car inexplicably stopped for ten minutes mid-air during the ascent; maybe it was for photo ops, but it was quite unsettling.) Stage 2 took us across a deep canyon to another peak. Some of the cable cars have glass bottoms that provide even better views across the gorge. Stage 3 took us back down.
After a quick meal, we had to drive back before it became too dark and the roads too slippery.
As a Chennai boy who had never experienced snow in my life, this holiday was a major item ticked off my bucket list.
(The writer works for an international bank in Singapore and enjoys travelling.)