Even as media players veer between "despair and enthusiasm" at the threats and opportunities presented by AI, experts at WAN-IFRA's Digital Media Europe 2023 event illustrated examples of generative AI's transformative powers. Lucinda Jordaan has the details
Tech innovations have been disrupting the media industry since the turn of this century. And if the advent of the Internet – and later, social media – is anything to go by, AI poses a real threat to how and what we communicate, and how those communications are received. Earlier this month, one of the world's leading AI data scientists, Geoffrey Hinton, resigned from Google out of concern that companies aren't ensuring that generative AI is being used ethically. And just last week, OpenAi founder Sam Altman, creator of ChatGPT, told a US Senate hearing on the impact of AI that industry regulation was crucial as AI becomes "increasingly powerful."
For media workers especially, the advent of an increasing variety of AI tools – in an age of disinformation and distrust in the media – is either fortuitous or portentous. Yet, AI is a reality now and, according to media experts who have embraced the various models of this disruption, it could well prove the answer to various current newsroom dilemmas. The Digital Media Europe 2023 conference, held in April in Vienna, heard from those who "veer between absolute enthusiasm and total despair."
Anita Zielina (CEO, Better Leaders Lab, Austria), who led the discussion, was joined by Anja Bonelli (director, Platform, at Ippen Digital, Germany); Verena Krawarik, head of APA-Medialab, Austria; and Ezra Eeman, director of Strategy & Innovation at NPO, Netherlands, and former change director at international media company Mediahuis. All have been delving into the possibilities of AI for years, and had various triumphs, tools and insights to share.
Automation, augmentation, implementation
Mediahuis has various teams approaching AI across the board, from data and insights to subscriptions. "In the newsroom, workflow is the focus – from planning, to publishing to archiving – and we approach this via three lenses: tedious, repetitive tasks that are easily automated, like transcription; augmentation of specific everyday tasks, such as headline generators; and the transformative power of AI implementation that unlock new forms and new kinds of services and value," explained Ezra Eeman. Mediahuis uses Rhetoric as a comment moderator tool, and Eeman illustrated how it "reinvents how commenting works."
Tools of the trade
Ippen Digital Media has TygerGraph as their recommendation engine for behavioural patterns, and uses Aleph Alpha for various newsroom tasks, such as AI-assisted headlines; ChatGPT for input in social media articles, quizzes and listicles, and Midjourney for active image generation.
Ippen's editors are also provided with an editorial news assistant that offers "smart modifications, decision support, next best action or decision automation." The company also has an AI proclamation that sets out rules for working with AI.
Coding, code checking and data processing are also AI-driven: "I deal with 250 terabytes of relevant data, and therefore I need AI to tackle the data and also to get them in my data cubes ready or available for exploratory analyses," said Anja Bonelli.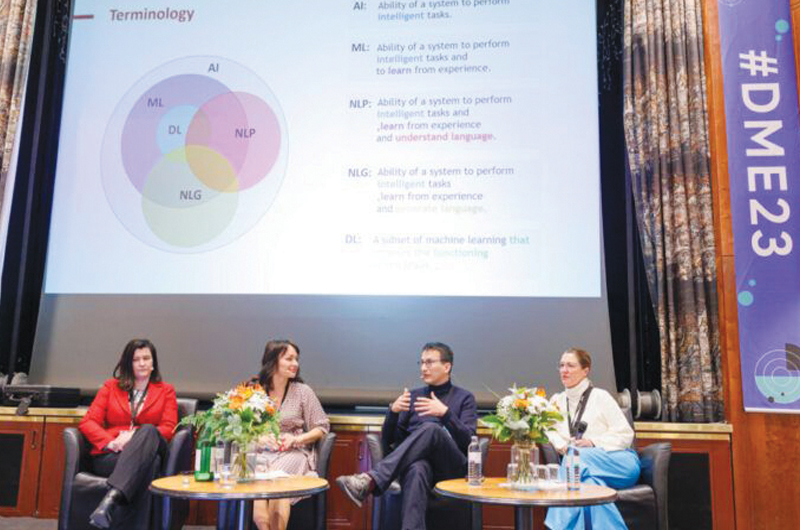 Research and collaboration
As a diversified company within the media, PR and communications fields, APA has been in the game for years, introducing NLP and NLP tasks from the start. APA started their project in automated journalism in 2016, with data journalism, producing thousands of data sets and thousands of news items around the elections.
APA's AI journey has led to collaborative partnerships with researchers, universities and companies on various projects, including a Facebook project on Hate Speech. Notably, APA has defined "trustworthy AI" means to them: "Because media companies can do a lot more stuff than other companies do, we have a whole other responsibility with AI; there are legal things that we can do, that we must think about. We see how we can do this or that – but think about it: Should we do it?" noted Verena Krawarik.
How to kickstart the AI journey in your newsroom
Look into what other publishers are doing, and follow their best-case scenarios for ideas on where or how to start.
Always start with the low-hanging fruit in various departments, from content creation to distribution and structuring.
Look at automating repetitive editorial tasks by introducing transcription models, AI-assisted headline suggestions, etc.
Play with content augmentation: See how AI tools could be used to enrich content, for example by having it read a story, and then create a quiz to be included at the bottom of the piece.
Start with the least dependencies on the product side; this will allow you to enter a lot of dependencies, quickly, with new tool chains. Look for the pain and the friction in your workflows and your distribution.
Personalisation is actually a painkiller, as well as providing a better tool to make metadata annotation easier and automated rather than asking this from your journalists who want to do creative work
Implement AI that gives readers personal feedback when they leave comments, with the goal to increase the quality of the narrative around articles.
Understanding the jargon
AI: ability of a system to perform intelligent tasks
Machine learning: the ability to perform these tasks, and also to learn from experience, to learn from tasks done and to become better at these tasks and learn from data as well.
NLP: is natural language generation and natural language processing, or the ability to also understand and generate language.
Deep learning: machine learning that mimics the brain's neural networks.
Generative AI: that category of artificial intelligence (AI) algorithms that generate new outputs based on the data they have been trained on. Unlike traditional AI systems that are designed to recognise patterns and make predictions, generative AI creates new content in the form of images, text, audio, and more.
(By special arrangement with WAN-IFRA. The writer is an external contributor to WAN-IFRA.)