Promoting gender equality in agriculture has tremendous potential for increasing farm yield, family income, and nutrition across the world. Equipping women farmers with the latest knowledge and skills in agriculture is of tremendous importance in India as agriculture employs 80 per cent of rural women in the country
The FAO Director-General in 2016 emphatically said, "It's all about opportunity. Evidence shows that when women have opportunities, the yields on their farms increase as well as their incomes. Natural resources are better managed. Nutrition is improved. And livelihoods are more secure." Equipping women farmers with the latest knowledge and skills in agriculture is of tremendous importance in India as agriculture employs 80 percent of rural women in the country (Niti Ayog). It will enable them to adopt good practices of agriculture and increase their role in decision-making on agriculture in families. Government and non-government organisations are making efforts at several levels in India.
Sehgal Foundation has started a pilot of promoting gender equality in agriculture in 15 villages of Bihar and Maharashtra, engaging with 500 women farmers. The women farmers have been organised on a platform called Women Farmer School (WFS) where they are given training on improved agricultural practices and new technologies. The objective of WFS is to enable women farmers to increase crop yield, income, and nutrition through better participation and decision-making in agriculture. They are called for training once or twice a month, depending on time availability and local requirements.
Women farmers value the training a lot as has been shared by Archana Jadav of Wawna Village, Aurangabad. She says, "The training sessions helped me to know about soil testing, soil health, and effectiveness of balanced fertilizers on yield and good seeds." It has equipped her with knowledge she can use in agriculture, as she works for 6–8 hours in the agriculture field during the agriculture season."
The training sessions in WFS include soil health management, climate-sustainable agriculture practices, input-use efficiency, balanced use of fertilisers, small farm mechanisation, water-efficient irrigation techniques, confidence building, and working in collectives, and understanding gender inequality. Some of the women farmers are illiterate, hence the tools of training involve field days, exposure visits, sharing by successful women farmers of the area, and other participatory tools.
In order to promote climate-sustainable agriculture practices, information is provided on flood-resistant and drought-resistant seeds, direct sowing without ploughing, flooding, or puddling, and methods to contain the carbon content of the soil. These methods not only save water and labour costs, they also reduce greenhouse gas emissions because of the minimal soil disturbance.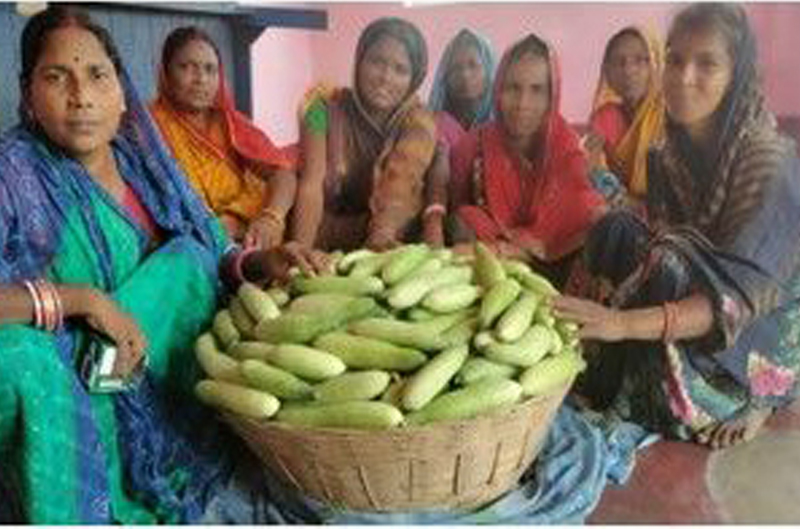 In addition, Sehgal Foundation provides balanced fertilisers and seeds as demonstrations to the women farmers. Krishi Vigyan Kendra is also invited to the training program of farmers, and they have also provided hybrid seeds to the farmers for demonstrations. The 500 women farmers have been regularly attending the training sessions through 2021–22 in the villages of Maharashtra and Bihar. They are becoming aware about good practices in agriculture and are trying to convince their family members to adopt the same.
Archana Jadav of Wawna Village tried to convince her husband to use the acquired knowledge on a package of practices (POP) of maize and cotton in their field, but he did not agree. She tried to convince her in-laws, but they also seemed hesitant. Later, her husband agreed to try maize hybrid seeds and balanced fertilisers on half an acre of land. They got a yield of 22 quintals which was 8 quintals more that the similar plot where they did not apply the POP. The WFS training helped Archana enhance her position in the family. She is now confident to replicate the learning in more areas of agricultural land.
Girija Devi of Panapur Village, Muzaffarpur, Bihar, tried to shift to two-layered vegetable farming from one-layer farming. But her husband did not agree. So, she brought her husband to the WFS session, and the trainer allowed him in at the training session. After attending the session, Anita and her husband agreed to try new methods of growing vegetables. Some vegetables, such as tomato and cabbage, were planted on the ground layer, and bitter gourd and bottle gourd were allowed to spread on the newly constructed first layer of bamboo. They used the land space optimally and increased their income by Rs 6,000.
Vimal Vithul Rautray, Nidona Village, Aurangabad, learned from the women farmers of Wawna Village about how the adoption of good POP increased the yield of maize substantially. She tried to convince her husband to adopt it in the rabi season (2021), but her husband refused, saying that she does not know anything about agriculture. She again tried to convince her husband in the kharif season of 2022. She also brought her husband to WFS and made him understand the maize POP from the trainer.
The husband was now convinced and allowed her to plant maize on one acre of land. They followed diligently the advice of the agriculture specialist. Their yield increased by 16 quintals in one acre. Vimal is happy that information and knowledge in WFS has given her tangible benefits. She plans to disseminate the information to other women farmers in her village so that they can also increase their income.
Women farmers even after being convinced of the effectiveness of adopting good POP cannot replicate it in the field as they faces the challenges of gender inequality in families. Women cannot make decisions on sowing, purchase of POP, harvesting, and sale. Some women farmers with undaunted courage and patience managed to try it on some portion of land, while others could not. The successful farmers become torchbearers for promoting gender equality in agriculture. The process is slow and time-consuming, but it has to be taken up in order to increase the yield and improve family health.
Vikas Jha
(The writer is principal lead, Local Participation and Sustainability, S M Sehgal Foundation.)
 (Courtesy: smsfoundation.org)