Bharat Dogra writes about efforts of a committed social activist and a handful of others to bring unsung folk arts and artistes of Uttar Pradesh's remote villages into the limelight, in a bid to ensure that these cultural traditions don't fade away
Lok Laya is an annual festival of folk arts, music and dance of Bundelkhand organised in Chitrakut District of Uttar Pradesh by the Samaj Seva Sansthaan, with the support of other organisations. It has become a point of meeting and solidarity for folk artistes of the remote villages in the region. They wait eagerly for the phone call from the main organiser, Gaya Prasad Gopal, or simply, Gopal-ji, inviting them to the event.
A social activist who worked all his life for weaker sections, Gopal is now 85 years old. The younger generation of artistes and activists call him Pitaji (father). Gopal grew up in Bigahna Village where some of the farmers are accomplished Dhrupad singers. After working in their fields during the day, they gather for music in the evenings.
As a young man, Gopal didn't see as much of a barrier as made out, between classical and folk music. As he had been working among the weakest sections on land, justice and related issues, he soon realised that a very rich tradition of folk song and dance is present in this section of society, including the tribal communities and Dalits of Bundelkhand Region. However, he found that the people were very poor and felt it would be unfair to ask them to bear their own expenses for travelling to any performing centre. This prompted him to look for donors to cover costs as well as pay the singers a small honorarium. That's how the LokLaya festival started. Nine editions of the event have been held so far in Chitrakut District.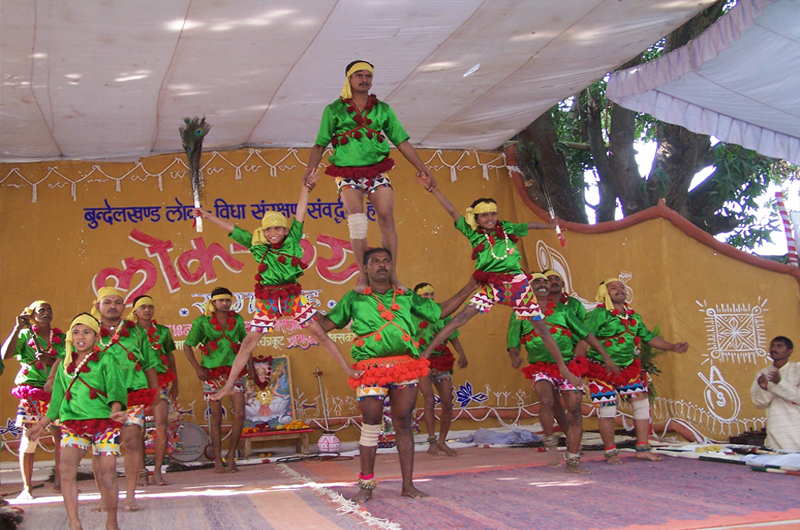 However, the difficult living conditions of many artistes continue to be a concern, and Gopal has been urging the government to take more steps to encourage their valuable skills by providing them livelihood support.
Ramjivan's parents worked as bonded labourers in Bharkhari village of Hamirpur District (UP). When he was in Std IV, he was forced by his parents' employers to graze their cattle. As he grew up, he spent his nights learning nautanki songs and raawla dance (related to folk music and dance). In a few years, by sheer dedication and hard work, he emerged as one of the most accomplished folk artistes of the area and became famous for his tamboora singing and kabiri. Yet, he continued to grapple with poverty.
Naurangilal, born into a family of sanitation workers, experienced extreme forms of untouchability and other humiliations from early childhood in Bakurkhurd Village (Hamirpur District). But his father also played various instruments at weddings, following tradition. Naurangilal was fascinated by this and he soon became an accomplished player of the dafla (a kind of hand drum).
Both these folk artistes got an enthusiastic response at Lok Laya (which literally means Rhythm of People). Gopal travelled far and wide in rural areas to establish contacts with such unknown but accomplished folk artistes. He collected books and documents on folk arts and also established contact with various scholars who were working as this subject.What he found in the course of this huge effort was that many talented folk artistes are in great economic difficulties. Many families, unable to manage two square meals a day, had to toil as migrant workers to survive. In such a situation, there was little incentive to pass on their skills to the next generation.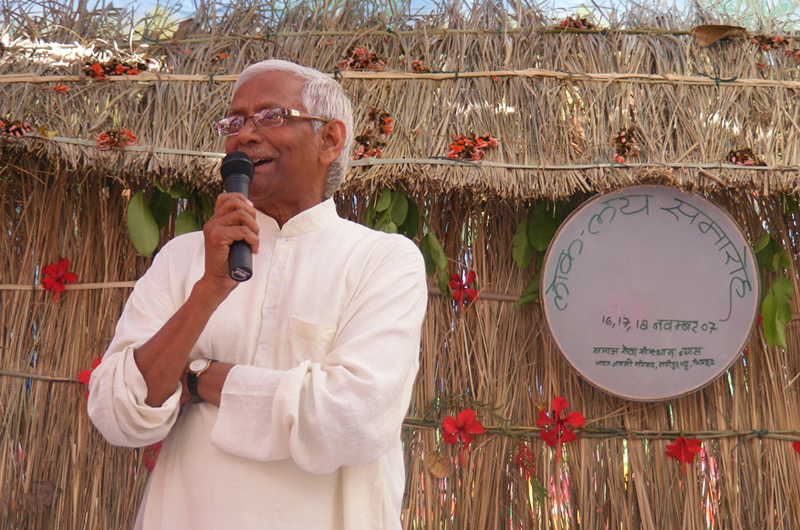 On the other hand, Gopal says he also comes across examples of resilience and strength among folk artistes who went all out to survive against heavy odds, and succeeded, due mainly to their integration with the social fabric of villages. This effort was supported by persons like Ram Bhajan in Hamirpur District who quit his job and set out to help revive folk arts in Vinvaar and neighbouring villages. Efforts of Krishna Mohan Saxena and Vijay Srivastava helped nautanki artistes in and around Banda District; scholars like Veena Srivastava, Madhu Shukla and Ayodhya Kumud helped document important aspects of Bundelkhand's folk arts. Organisations like PRIA and Sahbhagi have also contributed to the cause.
The festivals were well-covered by local media and helped to generate region-wide interest in the protection and strengthening of folk arts. A typical Lok Laya festival showcases the beauty and vitality of folk arts. The presentations by occupational and caste-groups such as dhobis, kahars (water-providers), kumhars (potters) and kachis (vegetable growers) were widely appreciated. As Lallu Ram Shukla of the Department of Music, Chitrakut University, explained, these shows attract the entire village community and the performances which continue all night help to strengthen the social fabric of rural life.
Even more lively were the presentations of Rai and Kolhai folk arts by Kol tribal artists. A new generation of Kol women, like Booti Kol, have broken free of the cruel legacy of bonded labour to emerge as panchayat leaders; and in addition, they are talented folk artistes. Ram Bhajan explained that talented women artists who inherit and develop great skills in their maternal homes are often discouraged from performing after marriage. They and their families should be encouraged to develop the talent, he stressed, and cited the example of Siyapyari Ahirwar, who benefited from efforts to re-discover and encourage talent, and has now emerged as one of the most celebrated artistes.
Veena Srivastava points out that several folk artistes of Bundelkhand have a special talent for combining singing, dancing and playing an instrument. According to Madhu Shukla, even the modest amounts sanctioned for folk artistes generally fail to reach the deserving artists. Speaking at a Lok Laya function, she said though these performers are true folk artistes, clever urban artistes take tips from them and end up as more popular figures and also corner more funds and fame.
Gopal says the disbursal of funds for folk arts needs to be re-examined to ensure complete transparency and honesty along with the right priorities. He has made a strong plea for more attention being given by the Government for the protection of folk arts and artistes.
(The writer is a senior freelance journalist and author who has been associated with several social movements and initiatives. He lives in New Delhi.)