Manzooz Ahmad Bhat, a 34-year-old self-taught artist from Central Kashmir's Ganderbal District creates portraits and landscapes using crushed stones and rocks collected from trekking routes in Jammu and Kashmir and Ladakh. His art is admired by many and he now wants to showcase his creations on the national and international stage. Seerat Basheer reports from Srinagar
Manzoor Ahmad Bhat, a resident of Guzerbal in Central Kashmir's Ganderbal District, transforms coloured, crushed stones into magnificent portraits and landscapes – he's perhaps the only artist in India to do this kind of work. He grinds stones of different shades and glues the powder on plyboard to create his artwork.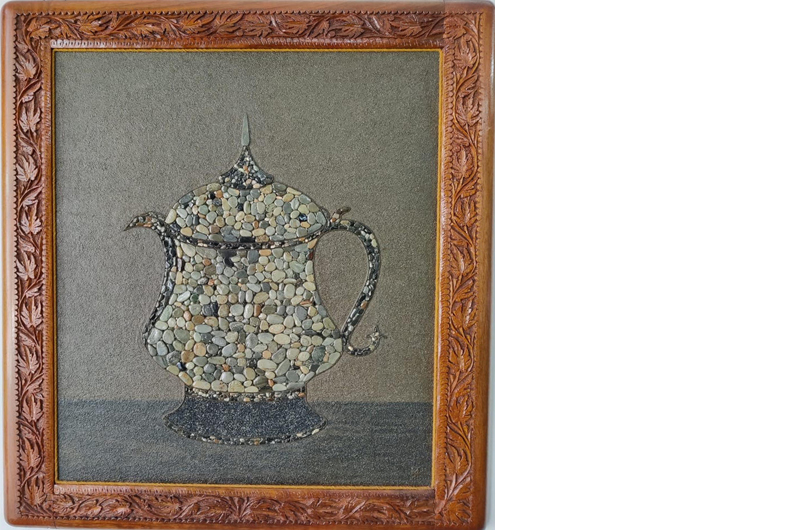 Manzoor, who has even done a portrait of Saudi King Salman bin Abdulaziz Al Saud, has been practising the art for more than two decades. "The intriguing arrangement of pebbles on the bed of a little spring near my home attracted me when, as a child, I went there to bathe on a hot summer day. I picked up some of the stones and tried to make a decorative item resembling the arrangement in the spring when I went back home. It took a lot of time and effort, but I persevered and eventually managed to build a fantastic mosaic," recalls Manzoor. "Since then, I have created hundreds of mosaic art work."
Initially, to create his art, Manzoor fixed the stones themselves on plyboard, to form landscapes and other pictures, before he got the idea of grinding the stones. Mansoor finds the stones of different hues in the beds of water bodies, mostly streams or tributaries of the River Sindh, between Sonamarg and Ladakh. The most fascinating thing is that he did not learn this art from anyone. He developed it himself.
"My art is not copied from anyone, it is one-of-a-kind mosaic art. I use no artificial colours, only stones and pebbles found in nature," he says, adding, "whenever I receive an order for a particular portrait, I search for stones in the colours I need." He represents mountains, rivers and lakes, all in stones of natural colours. In some pieces, he has used a combination of driftwood and stone, again possibly a unique effort. "Government officials came to meet me, and I even met the director of handicrafts, who asked the concerned officer to register this art. The authorities have assured me that this type of art has been registered as Innovate Art and that they would promote it through exhibitions in Kashmir and other regions of the country," he says.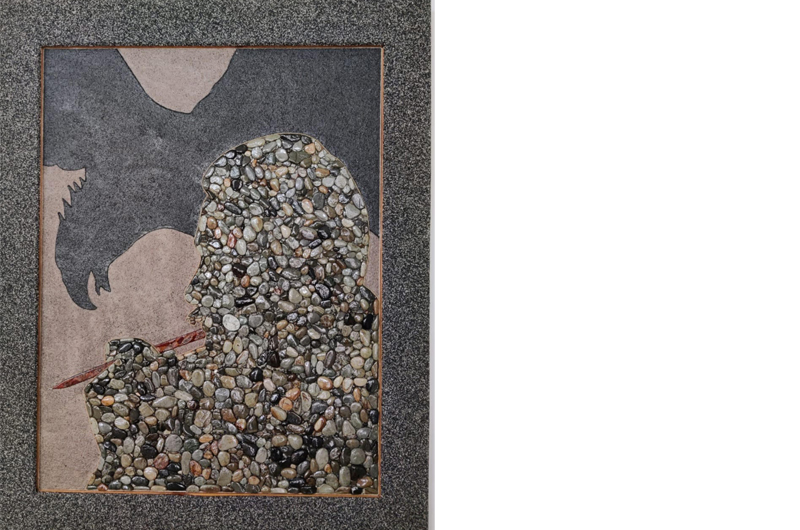 "I wanted to first register my art and then popularise it by participating in exhibitions," Manzoor reveals, adding, "A friend gave me the idea of creating a portrait of the Saudi King, hoping to receive a purse from him. But I was unable to give it to him because of the COVID-19 pandemic." With the support from Anant Vikas Spandan Global Art, Arohan Art in Delhi, and a private art collector, Manzoor has held exhibitions of his artwork twice in Goa – at the Taj Hotel in Mumbai and in Delhi. However, though the visitors displayed overwhelming interest in his artwork, he could not sell any of the pieces. He has sold some of his work through Srinagar art galleries though.
Looking back, Mansoor says, "I couldn't keep up with my education after the ninth grade, I was so focused on my art." Though his art is unique, Mansoor doesn't make enough money from his creations because he hasn't received the recognition he deserves. He works as a salesman at a shop to earn a livelihood.