Sarita Brara reports from Uttar Pradesh about a community rehabilitation programme which has dramatically turned around the lives of visually challenged people, particularly women, in remote villages
Not long ago, visually challenged Rekha depended on others for her very existence. Today, she is the sole breadwinner for her family that includes her paralyzed father, her mother, a widowed sister with three children and a younger sister. Rekha, who lost her eyesight at the age of five, has never been to school. Till three years ago, she could hardly do anything without the assistance of her siblings and parents. "I spent most of my time doing nothing," she says. But in 2020, her life changed, thanks to the Community-Based Rehabilitation (CBR) Project under the aegis of the All India Confederation of the Blind (AICB).
A CBR team which was conducting a survey in Pratapgarh District of Uttar Pradesh to identify and train visually challenged people came to her Ramapur Village. They selected Rekha, who was in her early twenties, to start a venture, selling cosmetics to begin with, as there was no shop of the kind in her area.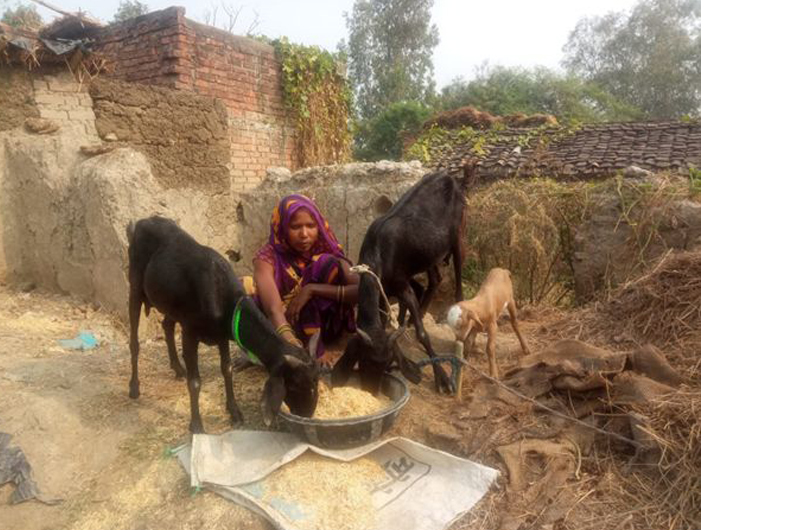 "I was trained for three months at my home by the CBR team. When I started, I did not even know how to use a matchstick and light a diya (lamp), leave alone run a shop. I had to learn everything from scratch. The team trained me to identify the different items for sale and their prices, recognise currency notes, keep accounts – the nitty-gritty ofrunning abusiness," says Rekha. She set up her shop in a wooden gumti that was provided under the project, using the money that was also sanctioned to start the venture. "With the support of CBR and other NGOs, my sales went up, and I was able to construct a pucca (solid/ permanent) shop of my own," the young woman says proudly.
Seeing the success of Rekha's business, a few others started similar outlets. "But I have my own clientele and, moreover, I replenish my stocks regularly," says Rekha, her voice filled with newfound confidence. She has learnt to cope with the competition. "Time was when nobody gave a fig for me. Today, everything is done on my advice and I am proud that I'm taking care of my parents and siblings," she says.
Rekha's is not the only success story. Raani lost her eyesight when she was just 10 months old. She, too, has never been to school, as there were none nearby to cater to a child like her. She was totally dependent on her family for 50 years. In 2008, when her brother died, there was no one to look after her. For a few years, she was given food by a community outreach programme, but after the person in charge passed away, even that stopped. Raani was dependent on random charity, and sometimes went to bed on an empty stomach. She had lost all interest in life by the time the CBR team got to know of her.
A family in her native Kalpi in UP's Jalaun District allowed Raani to live with them and start a shop. Like Rekha, she started from scratch, learning to count, identify the items she had for sale, check currency notes, and even use a mobile phone. "I am able to earn Rs 300-400 a day. I use the profits to buy more products for my shop. I call the dealers on the phone to send me the required items," says Raani. She is happy that no one has tried to cheat her and says she is generally treated well by the people around her.
The CBR programme was initiated way back in 1995 by the AICB to empower visually challenged people in rural areas. In UP, it took off in 2000. Initially, the programme was funded by a Norwegian aid agency. At the time, eye screening, distribution of eye glasses and eye surgeries were part of the programme, apart from training the visually challenged to do their own chores and earn a livelihood, too. Nearly 1700 visually challenged men and women were rehabilitated till 2018. At present, the project is funded by an agency in Demark. It does not include free screening, spectacles or eye surgeries.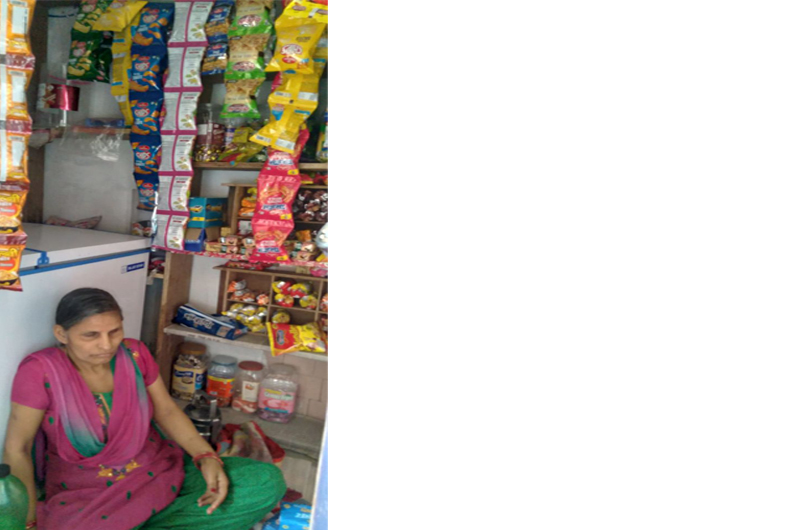 According to the project manager, Sudhanshu Shukla, visually challenged people in villages are either too protected, which makes them totally dependent on their families, or are neglected and sent out to beg. If the challenged child is a girl, her plight is doubly bad. The districts of Pratapgarh and Jaluan were brought under the programme in 2020. People between the ages of 16 and 65 are trained to become independent. Possible livelihood options include rearing of cattle and other domestic animals like goats.
Gomti was born with eyesight problems. Despite extremely low vision, she managed to study till she reached Std IV or V. She is now married and has a son and daughter. Her husband is a daily wager who does not get work on a regular basis. Gomti was given training in goat-rearing by the CBR team and sanctioned money to buy a pair of goats. She is able to take care of them very well. The couple has been able to sell a few goats and earn good money. The fact that Gomti is able to contribute towards the household expenditure gives her a sense of pride and satisfaction.
The CBR team trains the beneficiaries at their home villages. Apart from the starting capital of Rs 15,000, loans at low interest rates are arranged if needed. The team also informs the visually challenged people about government schemes they can benefit from. In the last three years, 20 visually challenged children, 18 of them girls, havebeen admitted in two residential schools run by the AICB. The project, which empowers both men and women, has in the course of the last three years, made 160 women in these two districtseconomically independent, helped increase their standing in society, and enabled them to lead a life of purpose.