This is a story about an initiative to provide women in self-help groups a permanent platform to sell their produce, and so earn a regular income and achieve financial independence
'One team one dream' – that is the name of this self-help group (SHG). And the dream is to make every member 'self-reliant' in the real sense of the word. The group aims to do this by creating both utility items and decorative pieces using discarded material. The guiding spirit behind this dream is Kusum Chauhan, who has done a four-year diploma course in miniature paintings and is adept at making innovative items from scrap.
While awaiting the release of their share of a revolving fund, the group for now is using its own resources to make products for sale at the outlet they have been offered in Aajeevika Bhawan in Shimla, says Renu Verma an active member of the group. This is part of an initiative under the National Urban Livelihood Mission to provide platforms to women in SHGs for regular sale of handmade products or to open food corners. Earlier, handmade goods and exotic Himachali dishes prepared by these women were sold at fairs, festivals and exhibitions in the state.
Gutsy Kusum Chauhan, who lost her husband in an accident, and has a 15-year-old daughter who is a special child, translates into reality her ideas on how waste can be used to make a variety of different products. She makes use of mostly old newspapers and other scrap. Materials like paints, white cement, putti, beads, pieces of cloth, etc are also required to make these items attractive, usable and saleable. Kusum makes a variety of pots, flower vases, different kind of tables, photo frames, pen stands, decorative pieces, and items with patchwork. All the group members are involved in one activity or the other in their endeavour to launch the initiative soon.
A postgraduate in English, Mamta Kanwar sells momos (steam-filled dumpling), siddus (a kind of bread made from wheat flour) and a few other snacks at a kiosk outside a book café that came up nearly six months back near a post office in Shimla. She and her partner Yashodha from the Shiv Shakti SHG take turns to serve snacks to students inside the cafe and the customers at the kiosk outside. The women are mandated to look after the café along with a watchman.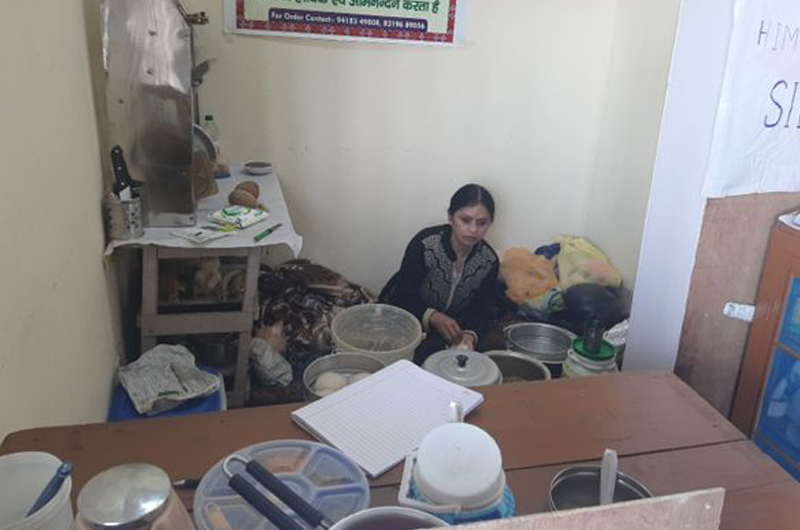 A small desk, a plastic chair, a kerosene stove, a vessel to cook the momos, and disposable dishes are the only equipment in the makeshift stall, which is open on one side and covered on the others by tarpaulin. The tarpaulin has the words Son Chidiya printed on it – the brand name of the products made by the members of the SHG, like sweet and sour candies, pickles, jams, juices and sepu wadi (a popular Himachali dish). To start an enterprise, the members can take a loan from the revolving fund of the SHG.
Mamta Kanwar says she joined the SHG after months of trying hard to get a job. Today she is the president of both the Shiv Shakti SHG as well as the area-level federation that comprises two members each from ten SHGs. She and Yashodha earn between Rs 400 and as much as over Rs 2000 a day, as the sales vary from day to day. "The earnings have really helped me and the best part is that I am my own master and not working under anyone. I am nobody's ghulam (slave) she says."
Apart from the kiosk, four shops inside Aajeevika Bhawan have been allotted to SHGs. Four groups are allotted one outlet – the idea is that the groups work on rotation to sell their products, says Nirupama Sharma, one of the organisers who oversees the activities of these SHGs in Shimla Municipal area. On the ground, however, it is usually only one or two members who take the pains to run the outlets. (It is mandatory to have five members in an SHG. Three must belong to a BPL family, with the other two members having an income ceiling of Rs 3 lakh a year.)
There are nearly 310 SHGs in 34 wards under the Shimla Municipal Committee. Most of the women, bogged down by their domestic chores and responsibilities, prefer to make products at home and sell them at fairs, festivals and exhibitions as and when they happen. This is the first time the SHGs have been provided stalls under the NULM (National Urban Livelihood Mission) in Aajeevika Bhawan where they can sell their products on a regular basis.
Allotting regular space to all 309 SHGs may not be possible, but the effort is to see that the maximum number of active and willing SHG members get some platform to sell their products and earn an income. Those making products at home earn between Rs 8000 and Rs 10000 per month, by selling their goods at fairs and festivals says Nirupama Sharma. Their incomes could now go up with the opportunity of regular sales.
It's important that women who are unable to hold down regular jobs for various reasons, are encouraged to become entrepreneurs and gain financially independence. Providing a platform to SHGs to sell their produce regularly is one such initiative.
Sheetal Karol, a double graduate – she has a master's in Sociology and a BEd degree – worked in various fields, from teaching and insurance to banking, selling readymade clothes and as an aanganwadi worker, before she turned to making the traditional siddus for sale under the aegis of the Sadbhawana SHG from Urban Mashobara. Sheetal's siddus,made as per an authentic recipe, sold like hot cakes at the summer festival last year and now her group has got a stall in Aajeevika Bhawan.
All the four shops that have been allotted to SHGs in this building are on the sixth floor. Though the footfall is low, sales have been increasing day by day ever since Sheetal opened the stall over a month back, and she has already started getting orders. "I am sure I will be able to make a good earning. My son is in NIIT Hamirpur and my daughter is studying to be a nurse in IGMC Shimla. I have to work really hard to ensure that their fees, hostel expenses and other needs are met," she says.
Sarita Brara, from Shimla