Sixteen journalists participated in a workshop titled, Understanding the Role of India's Military, conducted by the Press Institute of India and the Institute of Contemporary Studies Bangalore at the Christ University, Bangalore end-October.
The star attractions were Nitin Gokhale, NDTV's Security & Strategic Affairs editor and an authoritative defence analyst; retired Major-General Dhruv C. Katoch (SM,VSM), who had taken part in the IPKF operations in Sri Lanka as also in operations against terrorists and insurgents in Jammu & Kashmir and various states of Northeast India; Colonel M.B. Ravindranath, a Kargil War hero who led with great distinction the 2nd Battalion of the Rajputana Rifles to breakthrough victories in the Battle of Tololing (12/13 June) and Battle of Three Pimples (28/29 June); and retired Lieutenant General Ramesh Halgali (PVSM, AVSM, SM), former director-general of Military Training and later promoted as the deputy chief of army staff at the army headquarters. Other speakers included Vice-Admiral (Retd) R.N. Ganesh, Group Captain (Retd) A.K. Sachdev. Wing Commander (Retd) K.T. Sebastian, and Prof Arvind Kumar.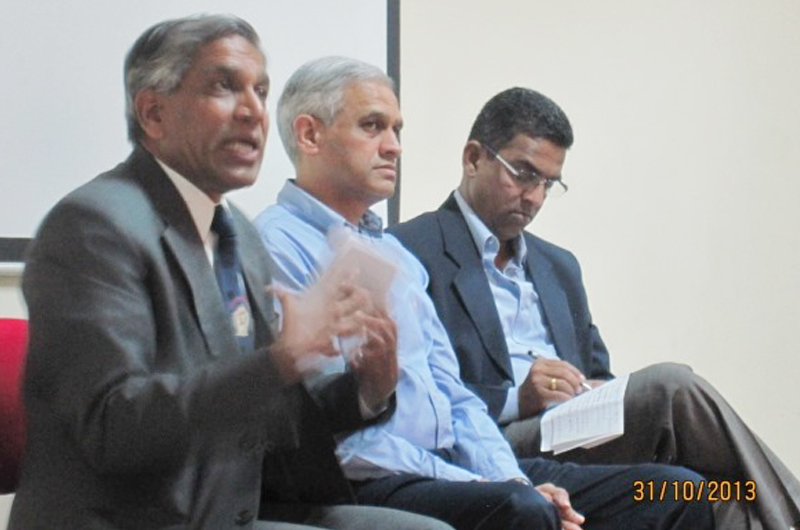 P.M. Heblikar, managing trustee, ICSB, is seated in front in the first picture. The other picture shows Ramesh Halgali answering questions, with Prof Chengappa and Nitin Gokhale in the frame.